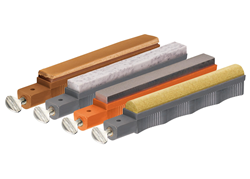 Buffalo, NY (PRWEB) February 22, 2016
Lansky Sharpeners, a world leader in innovative sharpening technology, is happy to introduce the Four-Hone Variety Pack. This replaces the most widely used hones in a kit, while getting a taste for different varieties of abrasives at an amazing value!
The Four-Hone Variety Pack serves as a sampler package, allowing buyers to try out different hones on certain knives and find what works best for particular products, knives and users. Lansky Sharpeners' new variety pack provides Lansky controlled-angle kit users with a complete sampling of many popular hones. The pack includes:

Leather Stropping – A hone perfect for unparalleled polishing.
Soft Arkansas (200-350 grit) – This serves as a natural whetstone, which is great for regular knife maintenance.
Medium Diamond (280 grit) – This hone tends to sharpen the fastest, and does so even on the hardest of steel.
Medium Curved (280 grit) – This hone is most useful for inwardly-curved blades such as a karambit.
With this sampler variety pack, Lansky Sharpeners allows buyers to get the most out of their money and the most usage out of just one purchase. Rather than investing in multiple products and a variety of hones, just one simple purchase of this newly-released Four-Hone Variety Pack offers a variety of sharpeners for different knives.
For more information about the Four-Hone Variety Pack that was just introduced to buyers this year by Lansky Sharpeners, visit their website at http://www.lansky.com.
About the company:
Lansky Sharpeners is the most recognized name in knife-sharpening systems worldwide. In addition to their legendary Controlled Angle Sharpening System, they continue to develop new sharpening technologies and innovations for hunting, outdoor sports, kitchen use, as well as the workshop. Their product line includes everything from a knife sharpener to a pocket knife sharpener. Visit their online store to view their ever-expanding line of great sharpening products. For more information, visit their website at http://www.lansky.com.