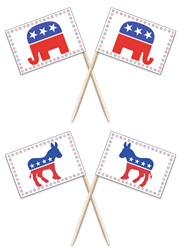 Atlanta, GA (PRWEB) February 22, 2016
The Flag Company, Inc., parent company of ToothpickFlag.com, the largest online supplier of flags and flagpoles, today announced the special event marketing of its gala two-party line of Political Party Toothpick Flags. Timed to anticipate and capitalize on the political season that is just now shifting into high gear, these festive Party Line Toothpick Flags will dress up and emphatically punctuate any affair from intimate fund raiser, to town hall meeting, to full-blown rally. Coinciding with the political and patriotic momentum gathering with upcoming Memorial Day and July4th holidays, as well as the eventful primary, caucus and national election schedule, the Party Toothpick Flags become an integral component in any candidate or political cause's marketing budget for 2016.
Party Toothpick Flags, sturdily constructed and proudly made in the U.S.A. by American workers, come in Standard size 1" x 1.5" mounted on a 2.5" toothpick, or Jumbo size 2.5" x 4" mounted on a 10" toothpick for larger items. Standard size Toothpick Flags are available in 100 packs, or Econo 50-packs. The Jumbo size Toothpick Flags come in 12-flag packs. Bulk pricing and new lower price shipping options are available.
According to Mike Lawrence, "Party Toothpick Flags are one of the most cost-conscious ways to tout party affiliation, embellish your event and express your candidate or cause's patriotism and national pride. A national election is literally a once-every-four- year marketing opportunity for Democrats or Republicans alike."
The Flag Company, Inc. has been establishing itself for over 25 years with Spirit Flag and Party Toothpick marketing programs, among many other innovative, timely promotions. These annual early season special marketing campaigns are representative of The Flag Company, Inc.'s commitment to being at the forefront of flag and flagpole web marketing commerce, and this year's Presidential Election makes the Party Toothpick Flag promotion all that much more pertinent. Since establishing itself with the Spirit Flag and Farming Flag®, The Flag Company, Inc. has led the industry with such products as Feel Good Light-Ups and, more importantly, its patented Flagpole Beacon. Recognized as the only real innovation in the flagpole industry in the last 50 years, the Flagpole Beacon is offered in the Illuminator Series Flagpoles and also for single sale retrofits for existing flagpoles for commercial and residential customers. It is available in a solar configuration and has achieved both IDA and ETL certification.
For more information on the vast array of products available from The Flag Company, Inc., visit http://www.flagco.com. And, for more information on the Party Toothpicks, visit http://www.toothpickflag.com/products.php?cat=21