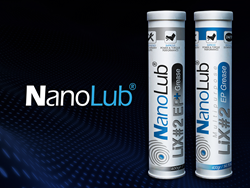 Our team of PhD scientists and engineers has worked on this for several years now and we are very proud with the results
(PRWEB) February 23, 2016
"Nanotech Industrial Solutions, Inc." (NIS), the US based innovative nano-lubricant company, announces the launch of its new NanoLub® Grease Product Family, including a range of Fully Formulated LiX Greases and a new Grease Additive.
NanoLub® new grease product family includes Fully Formulated LiX Greases as well as an EP and AW/AF Additive, enabling the customer to choose between a complete lubricant solution and an additive that can be blended to enhance the properties of other greases. The series includes:

NanoLub® Lix #2 EP Plus Grease
NanoLub® Multipurpose Lix #2 EP Grease
NanoLub® EM-X EP Additive for LiX Greases
"Our team of PhD scientists and engineers has worked on this for several years now and we are very proud with the results.", said Dr. George Diloyan, NIS's Director of Technology. "The new Fully Formulated Greases are GC-LB certified, have no active sulfur and easily outperform other LiX NLGI #2 grade greases, with the EP Plus product achieving over 800kgf in Weld loads. The Additive we developed can be used to achieve similar results with extremely low treat rates of 0.5%- 3%, depending on initial grease quality".
Todd Cawley, NIS's VP of Global Sales & Marketing, shares the excitement: "Our customers have waited for a Fully Formulated Grease based on the IF-WS2 technology for some time. Now that we are able to go public with the performance data, they are not going to be disappointed.", said Todd, "I fully expect this to be one of our major sales drivers this year and have appointed Mike Anderson to lead this effort as Business Development/Grease Product manager for this important product line."
NanoLub® is based on a unique patented technology using solid Tungsten Disulfide (WS2) multilayered nano Fullerene-like particles. These unique multi-layer IF-WS2 nano-spheres show outstanding resistance to temperature (-270 °C to 450 °C), shock (5,076,000 PSI) and pressure (4,263,000 PSI). They are versatile under even the most extreme operating conditions, including high and ultra-low temperatures, high pressure and high vacuum, high load, high rotating speed, high radiation and corrosion.
About Nanotech Industrial Solutions Inc.
Nanotech Industrial Solutions is the manufacturer of NanoLub®, an innovative nano lubricant based on inorganic particles of Fullerene-like Tungsten Disulfide. These revolutionary particles were first developed in 1992 by Prof. Reshef Tenne at the Weizmann Institute of Science. The technology is exclusively licensed to Nanotech Industrial Solutions for commercialization Worldwide. NIS has attracted the best minds in the fields of nano technology, chemistry, and various targeted industry applications like lubricating oils, greases, coatings, metal working fluids, polymers and composites. NIS's global corporate office, commercialization R&D lab, manufacturing, blending and packaging facilities are located in Avenel, NJ.