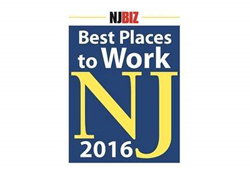 Franklin, NJ (PRWEB) February 22, 2016
Worldwide Supply, the leader in global networking hardware and services solutions, has again been named one of the Best Places to Work in New Jersey for 2016. This survey and award program recognizes and honors the top New Jersey employers that benefit the state's economy and its workforce. "I'm thrilled to be acknowledged again this year," says Jay VanOrden, CEO of Worldwide Supply. "We're committed as an organization to a healthy work/life balance and are truly delighted that the Best Companies survey reinforces that our efforts are successful and the team is flourishing."
The Best Places to Work in New Jersey program is made up of 100 companies split into two groups: 70 small/medium-sized companies (15-249 employees) and 30 large-sized companies (more than 250 employees). Worldwide Supply has been named one of the Best Places to Work in New Jersey in the small/medium category. To qualify, companies had to fulfill the following eligibility requirements:

Have at least 15 New Jersey-based employees
Be a for-profit, not-for-profit or government entity
Be a publicly or privately-held business
Have a facility in New Jersey
Companies from across the Garden State entered the two-part process to determine the top 100 Best Places to Work in New Jersey. The overall registration and employee surveying process was managed by Best Companies Group (BCG). BCG also analyzed the survey data provided and used its expertise to determine the final rankings.
For more information on the Best Places to Work in New Jersey program, please visit http://www.njbiz.com.
About Worldwide Supply
Worldwide Supply is the global leader in networking hardware and services solutions with an expertise in the data, wireless and wireline technology sector.
Headquartered in northern New Jersey, with offices in California, Hawaii, Massachusetts, Mexico, New York, Netherlands (Europe), North Carolina and Texas, Worldwide Supply provides products, asset management programs, technical services and third party maintenance to clients globally.
Worldwide Supply backs the products it sells with an industry-leading lifetime warranty and offers products from major manufacturers like Cisco, Juniper, Arris, Alcatel-Lucent, Ericsson, Nokia and more.
Worldwide Supply is TL 9000 and 9001:2008 certified.
________________________________________
For additional information on this topic, about Worldwide Supply or to schedule an interview with Worldwide Supply CEO, Jay VanOrden, please contact Allison Kraut at 973-823-6412 or via email at marketing(at)worldwidesupply(dot)net.