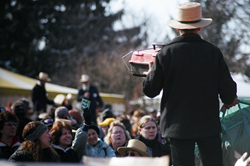 Combine a village mud sale with some hip Lancaster City music, all in one weekend.
Lancaster, PA (PRWEB) February 22, 2016
It's that time of year when Lancaster's one-of-a-kind "mud sales" take place in local Amish communities. But why not enjoy some cool new musical entertainment on the same weekend?
Visitors can't get more authentic 'round Lancaster County than the annual Amish "mud sales" season, which begins February 27 and runs, primarily, through mid-April (a few in May, June, & August) on Saturdays in small towns all over the county (typically 8am-2pm).
Named for the condition of the thawing ground in late winter / early spring, these community auctions benefit local fire companies and provide a wonderful opportunity to mingle with Amish neighbors as they help to run the sales, or enjoy a fun day full of great deals and PA Dutch eats themselves.
Attendees can buy everything there, including the kitchen sink, and all of it sold at up to six simultaneous auctions at various locations 'round the grounds and firehouse, which makes for a truly captivating experience (BRIEF VIDEO).
And this year, discover hip Lancaster City as well by planning a mud sale excursion around one of these great downtown musical events:
-- Lancaster Roots & Blues, February 26-28 – all types of music from 50+ artists at 10 city venues
-- Performances of the musical "Sister Act" at the Fulton Theatre, March 1-26 – enjoy singing, dancing, & fun in a grand classic theater setting
-- Performances of PRiMA Theatre's "UNCHARTED," March 3-5 – acoustic interpretations of Broadway and pop hits in true cabaret style
-- Classical music or ballet dance at the Ware Center, March 11-12 – experience music-in-the-round or interpretive dance in this beautiful venue
-- Explore the offerings of downtown's monthly Music Friday, March 18 – held every third Friday, retailers, restaurants, and attractions host musicians and extend their hours
-- Lancaster Symphony Orchestra's "Mozart Meets the Tango," April 2-3 – with special guests QuinTango; intriguing title, no?