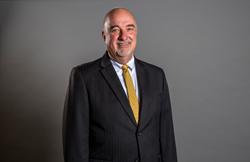 Bob Spencer brings a wealth of experience and knowledge to this position. We are thrilled he has decided to head this program. It is a real blessing to the university and to the Dickson community - FHU President Joe Wiley
Dickson, Tennessee (PRWEB) February 22, 2016
Freed-Hardeman University has named the director of the university's nursing program at Dickson scheduled to begin Fall 2016. Robert Spencer, a seasoned nurse educator and practitioner, began working with FHU Monday, Feb. 15, 2016.
A long-time resident of Dickson, Spencer was the assistant executive director of the Jackson Foundation until August 2013. Trained in both the nursing and legal professions, he is a registered nurse, a board certified family nurse practitioner and an attorney-at-law practicing in Nashville. He holds a Bachelor of Science from Austin Peay State University, a Master of Science in Nursing from Vanderbilt University and a Doctor of Jurisprudence from Nashville School of Law.
"Bob Spencer brings a wealth of experience and knowledge to this position," FHU President Joe Wiley said. "Needless to say, we are thrilled he has decided to head this program. It is a real blessing to the university and to the Dickson community."
"I am excited to be part of Freed-Hardeman University's effort to bring nursing education to Dickson and the surrounding area. Being associated with Freed-Hardeman and its reputation for academic quality in Christian education is humbling for me," Spencer said. "I look forward to the Dickson campus producing high-quality and compassionate nurses."
"Bob Spencer is very well qualified and comes to FHU/Dickson with great experience. His leadership skills and knowledge in nursing bring immediate credibility in Middle Tennessee. He has great rapport with his students, and they respect his direction," Red McCaskill, director of FHU/Dickson, said. "We are excited about his appointment and look forward to a strong program starting this fall."
"The FHU Department of Nursing is pleased to welcome Bob Spencer to our team. He has a demonstrated passion for nursing education, students and his community," Chris White, director of the FHU nursing program, said. "We believe he will be an excellent role model for our students and an ambassador for our nursing program. He is dedicated to our mission of providing a quality, Christian nursing education experience."
Freed-Hardeman's nursing program is accredited by the Commission on Collegiate Nursing Education as well as the Tennessee State Board of Nursing.
FHU began an associate degree nursing program in 2006 and graduated its first associate degree class in 2008. The last graduating class of associate degree nurses was in 2011. The university transitioned to the Bachelor of Science in Nursing in 2011 and graduated the first class of BSN students in 2013.
FHU's B.S.N. program will be housed in the new $1.1 million health sciences wing at the Renaissance Center. It features labs for anatomy and physiology, biology, chemistry, microbiology and nursing skills. In addition, a nursing simulation observation room and a nursing classroom will be housed there. Biology and chemistry classes taught by Nashville State Community College began utilizing the new learning spaces in January 2016.
Information about the nursing program is available by calling Ben Selbe at 615-440-7597 or emailing him at bselbe(at)fhu(dot)edu. Applications are available at http://www.fhu.edu/dickson.