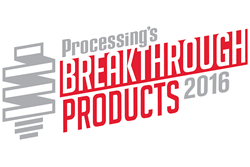 As market trends continue to evolve and grow, we look forward to another year of cutting edge technologies.
Birmingham, Ala (PRWEB) February 23, 2016
Processing magazine, part of Grand View Media's Process Flow Network, is accepting entries for its 2016 Breakthrough Products of the Year awards.
The Breakthrough Products of the Year awards recognize products, technologies and services that made significant contributions to the process industries within the last year and are expected to impact the industry for years to come.
"Processing is excited to share another group of innovative solutions for the processing industries in 2016," said Processing Editor in Chief and Processing Flow Network Editor at Large Kevin Parker. "As market trends continue to evolve and grow, we look forward to another year of cutting edge technologies."
The deadline to submit nominations is Oct. 30. Product descriptions of the winning technologies will appear in the December issue of the magazine. Solutions must be introduced between October 2015 and September 2016. Use the online form to enter a product for consideration.
Bindicator Co., Roto-Bin-Dicator PRO
Bedrock Automation, Universal Control System
Flexicon Corp., BLOCK-BUSTER Hydraulic Bulk Bag Conditioner
SPX Flow, EcoPure Centrifugal Pump
Vortex, Vortex Loading Spout
GE Piping Systems, Pressure Regulating Valve (PRV) Family
Camfil Air Pollution Control, Quad Pulse Package PX dust collector
Kepware Technologies, IoT Gateway for KEPServerEX
ITT Goulds Pumps, i-ALERT2 Equipment Health Monitor
Fox Thermal Instruments, Model FT1 Thermal Mass Flow Meter
Rittal, Blue e+ Cooling Unit Series
About Processing Magazine
Processing is the No. 1 new equipment and technology magazine serving the process industries worldwide, including the chemical, food and beverage, pharmaceutical and petrochemical industries.
About Grand View Media
Grand View Media serves industries from horticulture to hunting to health care, publishing content and providing client services for business-to-business and consumer markets. Whether via magazines, custom publications, digital communities, websites or proprietary lead generation tools, Grand View Media presents clients with custom solutions. Specializing in the green, outdoors, industrial and health care industries, almost 30 brands combine for collaborative, comprehensive solutions for clients worldwide. Grand View Media is a wholly-owned subsidiary of EBSCO Industries, a multibillion-dollar international conglomerate based in Birmingham, Alabama. One of the largest privately held companies in the U.S., EBSCO Industries is No. 1 in the world for many media and data services and comprises more than 40 diverse business units.
###