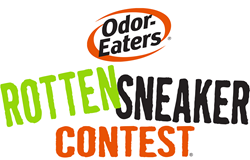 New York, NY (PRWEB) February 23, 2016
The annual Odor Eaters National Rotten Sneaker Contest is set to take place at 10 a.m., March 8, 2016 at Ripley's Believe It or Not! in Times Square (234 West 42 Street, New York, NY). This is the ultimate contest that shows just how offensive kid's sneakers can get.
Six kids, ages 7-13 from across the country, whose sneakers have won in regional contests will compete in the annual competition. But only one child will take home the "coveted" national prize. Our panel of professional judges will return this year to select the stinkiest shoe. They include George Aldrich – NASA's "Master Sniffer" and Rachel Herz, Ph.D. – a world-renowned expert and author on the psychology of smell. Joining the expert judges this year will be Michel Updegraff, General Manager of Ripley's Believe Or Not! Times Square, and someone who's no stranger to the unusual and unexpected. Additionally, Albert Cadabra, The Great Deceiver - an award winning magician and entertainer will be returning as the Master of Ceremonies.
The contest has a long history (over 40 years) and kids from across the country look forward to this annual event in their local town for a chance to compete at the national competition. Sneakers are judged based on odor, interior and exterior shoe condition. They also have to share the story of how their sneakers ended up so dirty and smelly. The winner will receive $2,500.00, the Golden Sneaker Award, an additional two-night stay in New York City, tickets to the Broadway show ALADDIN, a year's supply of Odor-Eaters products and a coveted place in the Odor-Eaters "Hall of Fumes".
Interested media should contact LeShelle Burton at lburton@blistex.com or (773) 844-2051.
For more information on last year's contest, visit http://www.odor-eaters.com (click on the Rotten Sneaker Contest tab).