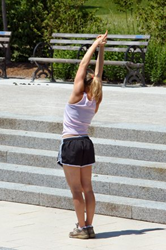 ... it is important to take the time to warm up before exercising, adopt a routine of stretching and strength training combined with a common sense approach to not overdoing it ...
Santa Rosa, CA (PRWEB) February 24, 2016
It may not be March yet, but with the trend Sonoma County is experiencing right now, with blue sky days and spring-like weather a lot of people are venturing out to resume jogging routines or heading out to the local sports field to get the jump on working off those extra winter pounds.
It is quite common for many people who've been inactive all winter to become inspired by fair weather and make the mistake of suddenly returning to physical activity. Although getting back in shape is always a good idea, SRO's sports medicine experts say that too-much too-soon after weeks of inactivity is a situation that can lead to a sports injury. Simple strains and sprains are among the most likely complaints, but here is a list of some of the things that can go wrong when the body isn't pre-conditioned to sudden and prolonged activity:

knee injuries: ACL tear, Meniscus tear
tennis elbow, rotator cuff injuries (both commonly associated with baseball and tennis)
Ankle sprain
Plantar fasciitis (running, jogging)
tendonitis (power walking, jogging)
shoulder dislocation
stress fractures
wrist fracture
lower back pain (golfing)
There are two basic levels of sports injuries: acute and chronic. Acute injuries happen quite suddenly and result from playing or exercising and these injuries generally manifest as sprained ankles, strained backs and fractured hands, for example. Chronic injuries happen after playing a sport or exercising for a long time. But no matter what type of injury, it is important to resist the temptation to 'work through' the pain of a sports injury. Some injuries should be taken seriously and seen by a doctor right away.
"We understand athletes," says SRO orthopaedic surgeon Gary A. Stein M.D. "We recognize that not everyone is at the professional level, and most people really do everything they can to prevent injury. But it is important to take the time to warm up before exercising, adopt a routine of stretching and strength training combined with a common sense approach to not overdoing it. Just these simple steps will help to keep athletes of all levels from causing injury to themselves, especially at this time of year."
To ensure the success of a workout regimen additional tips to consider include:
use proper equipment
replace worn athletic shoes
wear comfortable, loose-fitting clothes
adopt a fitness program including cardiovascular, strength training and flexibility exercises
warm up and stretch before exercise
take time to cool down
drink enough water to prevent dehydration
take time off from exercise and rest periodically
Santa Rosa Orthopaedics Has You Covered
Even when athletes take the time to integrate a warm-up and conditioning routine into their activities, sports injuries can still happen. When injuries do occur, it is a good idea to seek out the qualified advice and treatment of a medical professional such as a board certified orthopedic physician. With a state-of-the-art facility and a full complement of highly skilled physicians and other professionals, SRO's Sports Medicine Center provides a comprehensive, interdisciplinary approach to the prevention and treatment of injuries in athletes of all ages.
About SRO
From injury prevention to diagnosis, treatment, and rehabilitation of sports injuries SRO's team specializes in the evaluation and management of injuries and illnesses that affect physically active people at all competitive levels. To learn more visit our website or call 707-546-1922 to make an appointment.