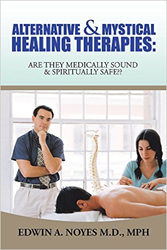 There are many who are more interested in 'health at any cost' than 'God's will at any price'
Portland (PRWEB) February 29, 2016
Alternative health practices such as yoga, Eastern-style meditation, mindfulness, Reiki and acupuncture are wildly popular, touted as having many physical benefits. But what spiritual effects do they have on the people practicing them?
Retired physician and devout Christian Edwin Noyes ponders this question and outlines his extensive research in his book, "Alternative & Mystical Healing Therapies: Are They Medically Sound and Spiritually Safe?"
"The book exposes terrible spiritual dangers posed by the New Age holistic health movement, which combines valid healing remedies with various mystical healing arts," Noyes said. "I provide valuable insight into the traps of the paranormal from a Christian perspective."
Noyes' interest in the topic began in the early 1970s when acupuncture gained popularity. As a physician, Noyes said, many patients asked him for more information about the process. Not knowing much about it at the time, Noyes said he found himself at 'ground zero' and began researching holistic health practices, filtering his findings through a strong Christian perspective.
"Today there are many who are more interested in 'health at any cost' than 'God's will at any price,'" Noyes said.
For more information, visit Amazon.com.
Alternative & Mystical Healing Therapies: Are They Medically Sound and Spiritually Safe?
By Edwin A. Noyes M.D., MPH
ISBN: 978-1514411742
Available in softcover, hardcover, e-book
Available on Amazon, Barnes & Noble and Xlibris
About the author
Edwin Noyes practiced general medicine and surgery in Forest Grove, Oregon for 40 years, also serving as a US Army physician in Vietnam during 1967. He has a master's degree in public health and his special interest in medicine has been nutrition and preventative care, lecturing internationally on these subjects for the last 45 years. Since 1971, Noyes has been researching the origin and foundational principles of the New Age health movement, gaining a deeper understanding of the proclaimed healing power of its many therapies.
# # #
For review copies or interview requests, contact:
Liz Mensching
317.602.7137
lmensching(at)bohlsengroup(dot)com