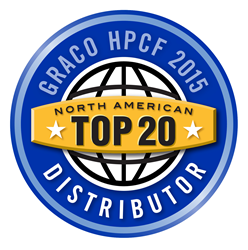 Our inclusion, once again, in Graco's Top 20 Distributors is a distinction we hold with pride
SAN DIEGO, Calif. (PRWEB) February 23, 2016
Rhino Linings Corporation (http://www.rhinolinings.com), a global leader in the manufacturing and distribution of spray-on protective linings and coatings, has once again been named one of Graco's Top 20 Distributors for foam and polyurea equipment.
Graco Inc, a manufacturer of fluid handling equipment, selected top distributors based on total equipment sales for 2015. Rhino Linings Corporation's top selling Graco equipment includes proportioners and spray guns designed to install protective coatings, linings and spray foam insulation.
"Our inclusion, once again, in Graco's Top 20 Distributors is a distinction we hold with pride," said Pierre Gagnon, president and CEO of Rhino Linings Corporation. "Our knowledgeable sales and technical staff empower Rhino Linings customers by providing training and access to the best chemicals and Graco equipment, ensuring their businesses run smoothly and efficiently."
Rhino Linings Corporation, established in 1988 and headquartered in San Diego, California, is a privately-held corporation and world leader in protective coatings and linings. Products manufactured and distributed by Rhino Linings include polyurethane, polyaspartic and epoxy coatings, as well as concrete resurfacing and refinishing products, spray foam insulation and stucco.
Rhino Linings Corporation has a global retail and industrial applicator network consisting of more than 2,000 independently owned and operated businesses in almost 80 countries.
For more information about Rhino Linings, or to purchase Rhino Linings chemicals or Graco equipment, call 858-450-0441, or visit http://www.rhinolinings.com.