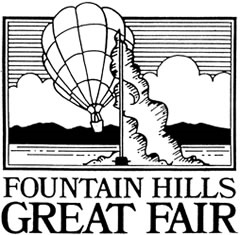 Each year we are so proud and honored to host this event that brings people from all over the U.S. and Canada to Fountain Hills for extraordinary art, music and food
Fountain Hills, AZ (PRWEB) February 23, 2016
More than 200,000 people are expected to flock to Fountain Hills to lose themselves in fine arts and crafts, music and food at the Fountain Hills Great Fair, set for Feb. 26-28. The three-day juried expo will be held on the Avenue of the Fountains in Fountain Hills from 10 a.m. to 5 p.m. each day.
Along the Avenue of the Fountains 500 artisans from around the U.S. and the world are expected to showcase their paintings, sculptures, photography and one-of-a-kind crafts. The event is an opportunity for people to add to their art collections, find new truly unique jewelry and buy just the right gift for that special someone.
Admission and parking are always free. Parking is readily available and handicap accessible. The Great Fair was created by the Fountain Hills Chamber of Commerce. The Chamber asks guests leave pets at home for everyone's safety and enjoyment during the fair. Scooter rentals will also be available.
"The Great Fair is an event for America's best artists to showcase their work," says Sharon Morgan, event producer for the Fountain Hills Chamber of Commerce, host of the event. "Each year we are so proud and honored to host this event that brings people from all over the U.S. and Canada to Fountain Hills for extraordinary art, music and food."
For more information, visit http://www.fountainhillschamber.com or call (480) 837-1654.
###
About Fountain Hills
The Fountain Hills Chamber of Commerce was organized as a non-profit corporation on Nov. 19, 1974, with approximately 15 members. Today, the Chamber has exceeded over 400 members. Since that time the Chamber has served the community to improve the economic environment while providing leadership for improving the quality of life of Fountain Hills.