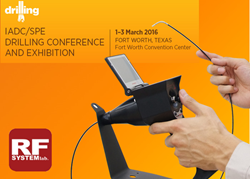 The VJ-ADV is easy to use with joy-stick controlled articulation and high-resolution, onboard image and video capture. Chad will be onsite in booth 424 to answer questions, provide information and hands-on live demonstrations with 2.8mm, 3.9mm, and 6.9mm
(PRWEB) February 29, 2016
The 2016 IADC/SPE Drilling Conference takes place March 1-3 in Fort Worth Texas. This conference brings together exploration and production professionals and emphasizes advancements in worldwide drilling operations that address problematic challenges and deliver improved performance.
RF System Lab borescope expert Chad Parker is looking forward to attending this leading drilling event to showcase the VJ Advance (VJ-ADV) articulating video borescope. The VJ-ADV is easy to use with joy-stick controlled articulation and high-resolution, onboard image and video capture. Chad will be onsite in booth 424 to answer questions, provide information and hands-on live demonstrations with 2.8mm, 3.9mm, and 6.9mm diameter scopes. The VJ Advance offers versatile, remote visual inspection capabilities to petroleum, and oil and gas professionals.
The IADC/SPE is comprised of two organizations. The International Association of Drilling Contractors (IADC) is dedicated to enhancing the interests of oil and gas and geothermal drilling contractors. Members of the IADC own most of the world's land and offshore drilling units and drill the vast majority of the wells that produce the planet's oil and gas. The Society of Petroleum Engineers (SPE) is a not-for-profit organization whose members engage in energy resources development and production.
Conference Chairperson Bill Ambrose stated "The technical, keynote, and plenary sessions will each provide insights to navigate the current low commodity price environment of our business. The distinguished speakers in our plenary session will explore the theme of "Out with the Old, in with the New" to share ideas about how we will need to adapt and evolve our technologies and practices. Topics will include well efficiencies, capital deployment, and new technologies to extract energy sources. Our keynote speakers will bring perspectives from within our industry, as well as from other industries, to address the critical issues we face today."
For more information about the IADC/SPE Drilling Conference, visit their website.
RF System lab will be attending many tradeshows throughout the year with live demonstrations. If you can't meet Chad at the show but are interested in reviewing all of the features of the VJ-Advance for yourself, contact us about our no-cost, no-obligation demo program by visiting our website or call today: 231-943-1171.