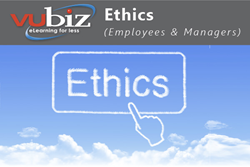 Los Angeles, CA (PRWEB) February 24, 2016
Vubiz announces new courses on Ethics for Managers and Employees.
These two new courses cover Ethics for Managers and Ethics for Employees.
Vubiz is excited to launch two new elearning courses: Ethics for Managers and Ethics for Employees. These new courses emphasize the importance of ethics throughout the organization.
The Ethics for Managers course teaches managers the impact of ethics; strategies for promoting ethical behavior; the difference between ethics, compliance and values; and identifies responsibilities as a manager. The Ethics for Employees course helps employees recognize ethical dilemmas and identifies a process for resolving ethical dilemmas.
Vubiz President Jim Rapino said ethics applies to all aspect of an organization "Ethical behavior and corporate social responsibility brings significant benefits to a company – including more customers and happier employees."
Vubiz is an award winning elearning company that provides comprehensive services from a large, impressive online library of courses, to customized courseware production to distribution with learning management software. Vubiz's vision is to help organizations become more competitive through the use of world class Internet learning technologies and has built a superb reputation over the past decade of offering outstanding value and unbeatable customer support. Vubiz online courses and elearning technologies assist in building workforce excellence.