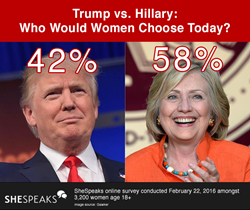 Today, 42% of women polled say they would vote for Trump vs. Hillary, while back in September, only 14% said they would.
New York, NY (PRWEB) February 24, 2016
Asked if the election were held today and the choice was between Donald Trump and Hillary Clinton, a SheSpeaks poll of US women age 18+ revealed that 58% would support Clinton while 42% would support Trump. SheSpeaks, the influencer marketing and media platform, conducted the poll nationally on February 23 and 3,200 members of their community responded.
By comparison, back in September 2015, only 14% of those polled in the SheSpeaks community said they would definitely support Trump.
According to Aliza Freud, CEO, SheSpeaks, "Given the negative comments Trump has expressed about women that have been widely publicized throughout the race, I'm surprised to see his support growing among our community of women."
About SheSpeaks
SheSpeaks, Inc. is an influencer marketing and media platform fueled by its community of content creators with a reach of 100 million. Its recently launched video platform, SheSpeaksTV, produces and amplifies video content targeted to women age 25+.