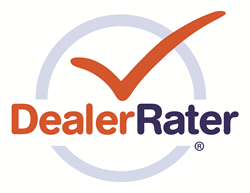 WALTHAM, Mass. (PRWEB) February 24, 2016
DealerRater, the car dealer review website that helps connect consumers with the right person at the right dealership, announced today that it has received the "Highest Rated" Reputation Management Product Award in the seventh annual DrivingSales Dealer Satisfaction Awards, as determined by the thousands of auto dealers who are part of the DrivingSales community. This year marks the fourth year in a row that DealerRater has received the Award.
"DealerRater is privileged to have won this important award for the fourth straight year," said Gary Tucker, DealerRater CEO. "What is especially gratifying is that this recognition comes directly from feedback provided to DrivingSales by our customers who recognize the powerful role positive dealership and employee reviews play in driving sales and customer satisfaction."
DealerRater makes it easy for online shoppers to find quality dealerships and even choose the sales or service employees they'd like to work with – all before setting foot in a showroom or service department. The company's CertifiedEssentials Program includes comprehensive online reputation management tools to help dealers transform positive reviews into increased business. The DealerRater product suite includes ServiceEngage™, 360Connect™, and ReviewBuilder™ which are designed to drive more business to dealers' service lanes, leverage the power of social networks to discover and engage with more auto shoppers across the web, and increase reviews from verified customers with an automated review reminder process.
DealerRater will exhibit in Booth # 4507C at the upcoming National Automobile Dealer Association (NADA) Convention & Expo, March 31st – April 3rd, in Las Vegas.
"We congratulate DealerRater on being recognized as one of the best-of-the-best by the people to whom their services count the most: the dealer community," said DrivingSales CEO and Founder Jared Hamilton. "For seven years, and through over 25,000 validated reviews, DrivingSales Vendor Ratings has helped dealers make smarter, more informed decisions, leading them to outstanding service providers such as DealerRater."
The DrivingSales Dealer Satisfaction Awards are based on cumulative ratings tallied and verified over the calendar year (January–December) at DrivingSales Vendor Ratings. DrivingSales Vendor Ratings is the industry's only neutral, comprehensive vendor rating forum featuring real-time peer reviews and honest competitor comparisons, and provides dealerships with important information from actual customers who have hands-on experience using vendor products / solutions in their stores. Each rating is verified as coming from an actual dealership employee.
Full award results are available online at http://dealersatisfactionawards.com/. Award winners are showcased in the Q1 2016 issue of the DrivingSales DealerExec delivered to more than 2,000 of the top used car dealers in the U.S. For more information on DealerExec, please visit: dealerexecmag.com.
About DealerRater
Founded in 2002, DealerRater is the world's leading car dealer review website that helps connect consumers with the right person at the right dealership. DealerRater.com provides more than two million service and sales reviews across 41,000 U.S. and Canadian dealerships, including a national network of more than 5,600 Certified Dealers. More than 14 million consumers read DealerRater content across the web each month. By offering a product suite that allows qualified dealerships to manage reputation and achieve higher SEO rankings, DealerRater supports new customer connections by growing online presence.
DealerRater has received the Dealer Marketing Magazine Technology Leadership Award and is a four-time recipient of the DrivingSales Dealer Satisfaction Awards "Highest Rated" Reputation Management Award. An October 2013 equity investment from Great Hill Partners, a Boston-based private equity firm, has allowed DealerRater to continue with a global expansion, accelerate product innovation, and evaluate strategic acquisition opportunities. For more information, visit http://www.DealerRater.com or call 800.266.9455.
About DrivingSales
DrivingSales is a professional network serving the auto industry with dealer-driven news and information, online training, and performance data, all to enable dealers to make critical business decisions at their dealerships. DrivingSales' mission is to connect progressive dealership professionals to the people and information they need to maximize their success. Founded by a third-generation car dealer, and opened up to the industry in 2008, today DrivingSales has registered users in over 50% of new car dealerships in the US and is active in several other countries around the globe. To learn more about the DrivingSales community, training or performance analytics visit DrivingSales.com, DrivingSalesUniversity.com and DrivingSalesData.com
DrivingSales Media Relations:
Christina DeVore
christina.devore(at)drivingsales(dot)com
Events Marketing Director
866.943.8371 x124
# # #