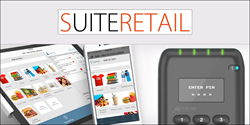 SuiteRetail really listens to their customers – several new features have made an immediate impact at the point-of-sale.
New York, NY (PRWEB) March 30, 2016
SuiteRetail today launched SuitePOS 2.0 for retailers on NetSuite. Featuring sleek modern software and running on the latest Apple iPad and iPhone devices and peripherals, SuitePOS continues to revolutionize in-store interaction at the point-of-sale for serious retailers who seek the benefits of a single ERP/CRM system across all channels and locations.
Hundreds of enhancements and new features have been added including:

Self-service Kiosk capability allows retailers to increase sales in-store and reduces lines without hiring additional clerks
EMV Chip Card and NFC device support. PCI DSS certified payment processing with P2PE encryption provides the highest level of security for cardholder data
Price Embedded bar code support for delis, grocers and retailers who pre-weigh and package loose materials
Full NetSuite Access at the POS. Options to process in-store pickups, ship-from-store, view customer dashboards and history, receive inventory and display virtually any kind of reporting without leaving the point-of-sale
NetSuite OneWorld support for retailers with multi-subsidiary operations
More Hardware options including support for the Star Micronics mPOP, a modern drawer/printer combo, and other high-performing iPad peripherals
To celebrate this major release, SuiteRetail is offering special promotions:
Kiosk Module Promotion - 50% Off
FREE EMV Chip / NFC Payment Devices
Comments on the News:
"EMV chip processing, Apple Pay, an enhanced user interface and even more speed, there is no cloud powered point-of-sale solution that performs better or offers cooler checkout tech than SuitePOS," said Jeff Schneider, Co-founder, Director - SuiteRetail. "For NetSuite retailers, we focused on how to bring deeper omnichannel channel data to the POS and provide additional tools for clerks and other in-store personnel to interact with their customers better. The beauty is way more than skin deep with this release and continues from the front of the store, to the back, and across all channels."
"SuiteRetail really listens to their customers – several new features have made an immediate impact at the point-of-sale," said Trey Carlstrom, Partner – Wrigleyville Sports. "We have more speed, more mobility and additional information to better serve our shoppers."
About SuiteRetail
SuiteRetail Inc. is a retail technology and service provider specializing in integrated retail solutions for leading business cloud platforms including NetSuite and Salesforce. Solutions from SuiteRetail are built around SuitePOS which fulfills a wide-range of general merchandise, specialty and quick-service retail requirements in-store. SuitePOS is managed in the cloud as part of one integrated omnichannel ERP/CRM suite and enables rapid multi-lane and mobile checkout, customer management, reporting and use of leading-edge hardware within the storefront or when selling on the road.
For more information about SuiteRetail, please visit: http://www.suiteretail.com
Like SuiteRetail on Facebook: http://www.facebook.com/suiteretail
Follow SuiteRetail on Twitter: https://twitter.com/suiteretail
All trademarks are the property of their respective owners.