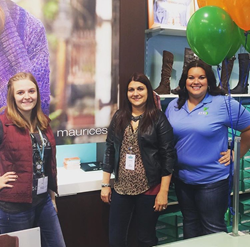 It's perfect timing because folks can bring in their unwanted fall wear, like jeans and boots, to donate while they shop for a new spring outfit!
Jackson, MI (PRWEB) February 24, 2016
For the third consecutive year, American Textile Recycling Service (ATRS) has partnered with Maurices to celebrate March Madness by hosting a month-long clothing & shoe donation drive at sixteen retail locations throughout Southern Michigan. Shoppers are encouraged to drop off their gently used, unwanted clothing & shoes during their next shopping trip to a nearby Maurices store.
In keeping with the spirit of March Madness, these participating stores have turned the donation drives into a fun & friendly competition. Each year the good natured rivalry gets more fierce, with the Monroe, MI store emerging victorious during the most recent competition last fall. From March 1 to 31, locations will promote the in-store clothing donation drive with posters, flyers and social media updates. The location that collects the most donations throughout the month will win a free lunch, courtesy of ATRS.
"We're absolutely ecstatic to partner with the Southern Michigan Maurices stores again," said Cat Sutter, Community Recycling Advocate for ATRS Michigan. "The March Madness at Maurices clothing and shoe drive will help generate much needed funding for our local nonprofit partner Michigan Humane Society. It's perfect timing because folks can bring in their unwanted fall wear, like jeans and boots, to donate while they shop for a new spring outfit!"
The Maurices March Madness drive is also a great opportunity for Mitten State families to kick start spring cleaning. Gently used, out of season, unwanted clothing and shoes are buried in closets and dresser drawers everywhere, just waiting to be given a second life through donation. As part of this promotion, shoppers that bring in a bag of donations will receive a 20 percent off coupon to use toward their next purchase, to encourage responsible reuse and recycling of outdated styles.
Both ATRS and Maurices have deep commitments to their communities. Every pound collected during the donation drive diverts precious, reusable textiles from local landfills while raising money for Michigan Humane Society, a worthy nonprofit that rescues and finds homes for animals in need. To find a year-round Clothing & Shoe Donation bin in your community, visit http://www.atrscorp.com or call the 24-Hr Hotline at 866-900-9308.
About American Textile Recycling Service
American Textile Recycling Service (ATRS) is the nation's fastest growing textile recycler. Its socially responsible business model provides free donation drop off solutions for the public, job stimulation worldwide and much-needed funding for worthy local charities. Easy, convenient ATRS Donation Bins are available throughout Michigan, Colorado, Texas, Florida, Tennessee, Atlanta, Oklahoma, Arizona, Indiana and Southern California. ATRS is committed to keeping textile waste from local landfills and promoting a greener tomorrow. For press inquires contact pr (at) atrsonline (dot) com.