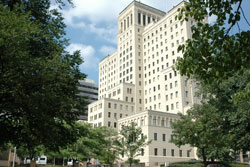 Developing integrated approaches like this to treat increasingly prevalent diseases is very important for improving patient outcomes and overall quality of care.
Pittsburgh, PA (PRWEB) February 24, 2016
Pulmonary embolism has quietly become the nation's third-leading cause of cardiovascular death after heart attack and stroke. To combat this growing public health concern, Allegheny General Hospital (AGH), part of the Allegheny Health Network, has established a multidisciplinary, team-based approach that standardizes the way patients suffering from pulmonary embolism (PE) are diagnosed and treated.
AGH's new pulmonary embolism response team, or PERT, features cardiologists, pulmonary and critical care specialists, and radiologists. It is believed to be the first multidisciplinary, standardized approach of its kind in the region focused on quickly identifying and then treating a disease that, according to the American College of Cardiology, affects one in every 1,000 to 2,000 people in the United States. After rolling it out at AGH, Allegheny Health Network plans to implement the team-based approach system-wide.
"The number of pulmonary emboli (PE) that we're seeing at AHN is on the rise. We saw over 2,500 cases of acute PE just at Allegheny General Hospital alone last year," said Raymond Benza, MD, Medical Director of the Pulmonary Hypertension and Thromboendarterectomy Program at AGH. "Developing integrated approaches like this to treat increasingly prevalent diseases is very important for improving patient outcomes and overall quality of care."
The PERT approach features a one-point contact system to expedite the delivery of care. If an acute pulmonary embolism – a sudden blockage of an artery in the lung – is discovered in a diagnostic test performed by a radiologist, the radiologist immediately reaches out to the pulmonary fellow. That pulmonologist takes the call from the radiologist, notifies the primary care team of the diagnosis and then the patient is evaluated using a rapid risk assessment test. The Pulmonary Embolism Severity Index (PESI) is a nationally validated scale that determines the patient's risk of mortality and the severity of complications based on a variety of clinical factors.
"Very low-risk patients can be handled with conventional means, such as anti-coagulants given by the primary team," explained Marvin Balaan, MD, System Division Director of Pulmonary and Critical Care at Allegheny Health Network. "But anyone with a moderate to high level of risk goes to a medical intensive care unit (MICU) or cardiac intensive care unit (CICU). It's a completely new standard of care."
Once in one of those intensive care units, the patient is further comprehensively evaluated to determine whether they have a massive or submassive PE – the most dangerous condition that has a 60-70% mortality rate from sudden cardiac death or cardiogenic shock, if not treated quickly and aggressively.
"Before this new team-based approach, there was no clear pathway, so many of the patients were not getting consistent, guideline-based care," said Eric Bihler, DO, a pulmonary and critical care medicine specialist at AGH. "This led to substantial delays in therapy for those who had the most serious kind of PE that must be treated like a stroke or a heart attack, where a delay in care can be deadly."
Pulmonary embolism is often characterized by symptoms that can be vague or easily confused for another condition. That includes dizziness, chest pain, shortness of breath, swelling in a leg and a rapid or irregular heartbeat.
"The Pulmonary Embolism Response Team is a perfect example of how important it is to use a multidisciplinary, team-based approach when treating a disease that can be difficult to diagnose and doesn't clearly fall into one particular medical specialty," said Srinivas Murali, MD, Director of AHN's Cardiovascular Institute. "With the PERT, physicians from various medical and surgical disciplines, bringing different perspectives and areas of expertise to the table, are quickly able to collaborate and develop an agreed-upon pathway of care, then gather the resources required to execute that treatment plan efficiently, thus achieving the best patient outcomes."
In addition to Dr. Benza, Dr. Balaan and Dr. Bihler, other members of the new PERT include cardiologist Manreet Kanwar, MD; interventional cardiologists Mithun Chakravarthy, MD, and David Lasorda, DO; and radiologists Paul Kiproff, MD, and Cory Nordman, MD.
Allegheny Health Network is rated the #1 health system in western Pennsylvania and among the top 5 percent nationally for cardiac care, interventional heart care and heart attack treatment according to Comparion® Medical Analytics, 2016 National Quality Rating Database. Comparion also ranks AHN among the top 3 percent nationally for pulmonary care.
About Allegheny Health Network
Allegheny Health Network, part of Highmark Health, is an integrated healthcare delivery system serving the Western Pennsylvania region. The Network is comprised of eight hospitals, including its flagship academic medical center Allegheny General Hospital, Allegheny Valley Hospital, Canonsburg Hospital, Forbes Hospital, Jefferson Hospital, Saint Vincent Hospital, Westfield Memorial Hospital and West Penn Hospital; a research institute; Health + Wellness Pavilions; an employed physician organization, home and community based health services and a group purchasing organization. The Network employs approximately 17,500 people and has more than 2,100 physicians on its medical staff. The Network also serves as a clinical campus for Temple University School of Medicine, Drexel University College of Medicine and the Lake Erie College of Osteopathic Medicine.
###