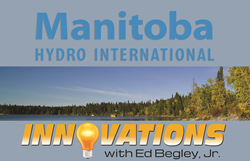 Jupiter, FL (PRWEB) February 26, 2016
Innovations w/Ed Begley Jr., announced today that it will feature Manitoba Hydro International Ltd. (MHI) in an upcoming episode, airing third quarter 2016 via Discovery Channel. Dates and show times TBA.
For over 30 years MHI has provided innovative services and solutions to customers in the energy sector around the world. In this segment of Innovations, viewers will be educated on MHI's high voltage testing services, offered in association with Manitoba Hydro's state-of-the-art High Voltage Test Facility.
MHI is a wholly owned subsidiary of Manitoba Hydro, one of the largest and longest-standing energy utilities in Canada. Manitoba Hydro is the province's major energy utility, serving over 561,000 electric customers and 274,000 natural gas customers throughout Manitoba. Manitoba Hydro generates nearly all its electricity from self-renewing water power using 15 hydroelectric generating stations located throughout the province.
"MHI is proud to be a leader in providing innovative services," said Shawna Pachal, Senior Managing Director of MHI. "We are very pleased to participate in an episode of Innovations to highlight the importance of high voltage testing and showcase the incredible work that takes place at the High Voltage Test Facility."
"Manitoba Hydro's High Voltage Test Facility is truly world-class," said Michael Devine, Producer for the Innovations TV Series. "We look forward to enlightening viewers on MHI's amazing high voltage testing services."
About Manitoba Hydro International:
Manitoba Hydro International Ltd. (MHI) provides innovative services and solutions to customers in the energy and telecommunications sectors around the world. Leveraging its international experience and the parent utility's methods and technologies, MHI offers sustainable results and superior value.
MHI's five divisions provide a wide variety of services, including engineering consulting, project and contract management, transmission line design, modelling, and analysis, high voltage maintenance and construction, training, and more. Dedicated to creating lasting relationships, MHI collaborates closely with clients to achieve their specific needs and desired outcomes.
For a complete overview of MHI's service offerings please visit: http://www.mhi.ca.
About Innovations and DMG Productions:
Innovations, hosted by award winning actor Ed Begley, Jr., is an information-based series geared toward educating the public on the latest breakthroughs in all areas of society. Featuring practical solutions and important issues facing consumers and professionals alike, Innovations focuses on cutting-edge advancements in everything from health and wellness to global business, renewable energy, and more.
DMG Productions (responsible for creating the Innovations show) includes personnel specialized in various fields from agriculture to medicine, independent films to regional news and more. Field producers work closely with experts in the field to develop stories. This powerful force enables DMG to consistently produce commercial-free, educational programming that both viewers and networks depend on.
For more information visit http://www.InnovationsTelevision.com or contact Michael Devine at (866) 496-4065 x 824 or via email at michael@InnovationsTelevision.com.