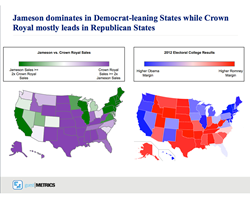 Take away Jack Daniel's from the map and it looks like we truly are a bar divided against itself. With fringe exceptions, Democrat-leaning states prefer Jameson and Republican-leaning ones prefer Crown Royal.
Stamford, CT (PRWEB) February 25, 2016
It seems like politics and alcohol have always been intertwined. Among the founders, Jefferson longed for American vineyards that could one day produce wine like the French, Washington distilled whiskey and John Adams drank a daily tankard of hard cider. As late as 1900, over 60% of the federal budget came from alcohol excise taxes. The United States' national compulsion to shoehorn ballots and booze together culminated with the ill-fated experiment of the 18th Amendment and Prohibition.
With election season heating up and alcohol being part of its wheelhouse, GuestMetrics got in on this patriotic coupling. For those unfamiliar, a quick refresher; GuestMetrics collects point-of-sales system data from more than 18,000 On-Premise hospitality locations in the United States representing more than $100 billion in consumer spending. GuestMetrics cleans the various misspellings and alternate product descriptions to get to a clean mapping of all food and beverage sales in restaurants and bars. From these 18,000+ locations GuestMetrics develops a nationally representative market basket of over 9,300 doors to look at overall sales trends in the US On-Premise. This sample tracks more than 1.7 billion individual consumer transactions.
This all started with combing through the sample's whiskey data. GuestMetrics tracks over $230 million in annual sales for the top three brands in the market basket sample and to start, the results weren't exactly shocking.
Yes, it's a widely known fact that Jack Daniel's is the dominant whiskey in the United States. Jameson and Crown Royal are left duking it out for a distant but respectable second place. The impact of just these three brands alone is massive. With Jack as the senior partner these three whiskey brand families account for over 1/8th of all $ sales spent on called spirits in the US On-Premise over the last year.
The analysis a client called for required geographic sub-cuts, and it's when GuestMetrics' data scientists got to the state view that things started to get interesting.
Jack is still dominant. It's the number one whiskey brand in 29 states and Washington DC. What was striking though were the pockets of the country where Jack wasn't the leader. With the exception of Utah, all the Jameson-led states are part of the so called "Blue Wall"; the states that have voted for a Democrat in every presidential election since 1992. Kick out Hawaii and New Mexico for Crown Royal and you have states that have all only voted for a Republican in the last four election cycles. Was this just a coincidence or does the polarization of United States really run all the way down to the bottom of American's whiskey glasses?
Take away Jack Daniel's from the map and it looks like America truly is a bar divided against itself. With fringe exceptions, Democrat-leaning states prefer Jameson and Republican-leaning ones prefer Crown Royal. In the nine swing states that have actually flipped parties at least once since the 2000 election, only New Mexico is taking outright sides in the Irish vs. Canadian fight. In Florida, Ohio, North Carolina, Virginia, Indiana, Colorado Iowa, Nevada and New Hampshire, Jameson and Crown Royal take a back seat to Jack Daniel's.
Line the sales ratios of the two whiskeys up against the electoral map from 2012 and the similarities are hard to ignore. Most perplexing is the Utah situation, but it wouldn't be the first time that there was fluky hard spirits data coming out of the Mormon-dominated state.
What about individual markets that buck their state voting trends though? For example, Texas is as reliably Republican a state as any and a true lover of the purple velvet-wrapped whiskey. But what about a left-leaning town like Austin? Austin went heavier for President Obama than the three corner cities of the Texas Triangle. It also is ringed by some medium-rare pink counties as opposed to the more conservative outer-suburbs that surround Houston, Dallas and San Antonio.
When taken side by side, it's clear that those who want to "Keep Austin Weird" sure do seem odd compared to their fellow Texans when it comes to their whiskey preference.
So what does this mean? Is the "Republican Primary Debate brought to you by Crown Royal" imminent? Have Hillary Clinton and Bernie Sanders been advocating for a completely different kind of "going green" this entire time? Count GuestMetrics among the skeptics. The next time a political argument breaks out at a bar though, maybe start by buying the guy or gal a shot of whiskey.
Oh and in case anyone was wondering, which brand does Trump prefer? No one can say, as according to him, he doesn't drink a drop of alcohol.
About GuestMetrics
GuestMetrics LLC is the leading data analytics firm in delivering consumer insights and actionable intelligence to the Food & Beverage, Hospitality and Financial Services Industries. Founded a decade ago, GuestMetrics along with its subsidiary Black Box Intelligence LLC, tracks consumer spending everyday from more than 40,000 on-premise locations (restaurants, bars, hotels and stadiums) across the nation. GuestMetrics transforms more than 1.7 billion Point-of-Sale (POS) transactions (representing over $100 Billion in consumer purchases annually), into actionable business intelligence for its customers. The company does this through the rigorous implementation of four core competencies: SOURCING the most varied combinations of structured and unstructured data, CLEANSING AND MAPPING data to our robust and industry proven data dictionary, ANALYZING the data leveraging the most advanced analytics methodologies and VISUALIZING the data by deploying the most intuitive visualization tools.
You can lean more about GuestMetrics LLC at:
http://www.guestmetrics.com
News Media Contacts:
marketing(at)guestmetrics(dot)com