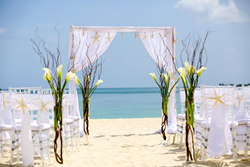 AskMeWeddings is offering a $2900 credit on destination wedding packages booked by March 31 and held by December 22, 2016.
(PRWEB) February 26, 2016
Celebrating Leap Year, AskMeWeddings is offering a credit of $2900 on the destination-wedding package for wedding groups booked at its partner properties by March 31, 2016. Eligibility requirements for the Leap Into Love promotion include a minimum of 87 room nights booked directly through AskMeWeddings. Weddings must take place by December 22, 2016. To enjoy the LeapYear discount, mention promo code LEAP16.For more information visit http://www.AskMeWeddings.com/2900-off or call 877-442-7563.
AskMeWeddings is all about wedding bliss; that is creating dream-come-true wedding events in tropical settings. The Miami-based company represents venues the Caribbean and Mexico, including Paradisus Resorts; Occidental Resorts including Royal Hideaway; Calabash Cove Resort & Spa; Coconut Bay Resort & Spa; Melia Resorts; and The Villas at Stonehaven.
"AskMeWeddings' expert team handles all the details, alleviating stress and allowing the couple to enjoy the experience and the setting," said Hilary Lanzer, Managing Partner of AskMeWeddings.
Marilyn Cairo and her business partner, Hilary Lanzer, are hospitality industry veterans with extensive experience in the Caribbean and Mexico. Cairo, Lanzer and their team engage with each couple to ensure their wedding day is more an experience that exceeds their expectations. AskMeWeddings' expert planners work directly with resort staff on behalf of the couple. The Miami-based company also works with travel agents who focus on destination weddings.
"Whether the couple is planning an elopement on their own or with just a few friends and loved ones, or anticipating a gala celebration with dozens of guests, AskMeInc can recommend the perfect venue," said Lanzer.
Off the coast of Florida and North of the Caribbean chain of islands, lies the Bahamas. The resort to get married at in the Bahamas is Melia Nassau that offers the Tropical Fairytale Romance Package designed for 24 guests. The package includes the ceremony, one-hour of photography, and a choice of violinist or saxophonist for the ceremony, one-hour post ceremony cocktail party, three-course dinner or buffet with a bar, plus much more, such as round-trip airport transfer for the wedding couple. PRICE: Starting at $8,400 for up to 24 persons
On the Caribbean coast of Mexico, the options for memorable destination weddings are endless. Paradisus Cancun encourages couples to design their own three-day wedding experience with the Tailor Made Romance Wedding Package choosing from a roster of options ranging from fairy-tale fantasy to chill-out chic. The celebration kicks off with a three-hour welcome BBQ & Open Bar Party. Wedding day festivities include a decorated wedding gazebo, a bridal bouquet and a boutonnière for the groom, a one-hour cocktail reception with hors d'oeuvres and an open bar, chilled sparkling wine for the wedding toast, a three-hour, open-bar private dinner reception, a two-tier wedding cake, wedding night turn-down service with chilled sparkling wine and a scented bubble bath, a day-after Yhi Spa couple's massage and six 25-minute massage gift certificates. PRICE: Starting at $11,050 for up to 42 persons
Royal Hideaway, the adults-only, all-inclusive luxury beachfront resort located just an hour south of Cancun, offers Infinite Bliss, which includes the ceremony including the set-up and recorded music, flowers for the wedding couple, two-tier wedding cake, a live Mariachi band, cocktail reception and three-course dinner, wedding photographer, and more. PRICE: Starting at $4,999 for up to 20 persons
In the Eastern Caribbean lies the sweet, lush island of Saint Lucia. Calabash Cove Resort & Spa, located on the North Coast of Saint Lucia, is the ideal setting for more intimate weddings and elopements. The Perfect Paradise Wedding Package includes the ceremony on the resort's own pier with the ocean stretching all the way to the horizon as the backdrop. Consider sunset nuptials at the west-facing locale. Also included: marriage license, officer and fees; a tropical bridal bouquet and two centerpieces on the imperial table; chilled Champagne and a two-tier wedding cake, a one-hour cocktail reception including hors d'oeuvres and a premium bar, a private wedding dinner and a day-after brunch; and, for the newlyweds, special turn-down service, breakfast in bed and a couple's massage in the waterfront gazebo. PRICE: $7,000 for up to 20 persons
Also on Saint Lucia, Coconut Bay Beach Resort & Spa's Pearl Wedding Package includes a group catamaran cruise or private island tour — and a free two-night stay to celebrate your first anniversary — in its fairy-tale experience. Also included: a personal wedding coordinator, a decorated wedding location (oceanfront gazebo or Eternity Beach), a bridal bouquet and a boutonnière for the groom, a photography consultation and a photographer for three hours, a decorated reception area with five centerpieces, a one-hour cocktail reception with hors d' oeuvres and a standard bar, a three-hour private three-course dinner, a live steel-drum band for one hour, a three-tier wedding cake, chilled sparkling wine, a 5x7 framed wedding photo, government and administrative fees, romantic wedding night turn-down service, continental breakfast in bed and a $300 spa credit. PRICE: $6999 for up to 26 persons
All the way in the Southern Caribbean on the Dutch island of Aruba, the Occidental Grand Aruba offers the Topaz Dream Wedding Package, which includes the ceremony, post-ceremony cocktail reception, a private dinner with imperial set-up, and couples massage. PRICE: Starting at $3,750 for up to 20 guests
Couples who exchange vows at The Villas at Stonehaven on the island of Tobago create their own wedding experience in their setting of choice: a hillside villa with panoramic views, a lush tropical garden, the hotel terrace or the pristine sandy beach at nearby Stonehaven Bay. The personalized experience includes tropical flower arrangements, wedding cake, photography and videography, a decorated wedding arbor and one-hour steel pan player for the ceremony. There are 14 villas so bring family and friends and enjoy special discounts on multi-villa rentals. PRICE: Starting at $2,500 for up to 8 guests
For questions or to book a destination wedding, call AskMeWeddings at 877-442-7563.
About AskMeWeddings
AskMeWeddings, a division of AskMeInc, is a stress-free solution for destination weddings. The Miami-based company's expert specialists work directly with couples, or with travel agents, to manage the wedding experience from preliminary planning to the honeymoon at leading hotels in the Caribbean, Mexico and Latin America. Travel agents earn up to 13 percent on room bookings and up to 12 percent on wedding package bookings. Visit http://www.AskMeWeddings.com or call 877-44-ASK ME (877-442-7563).
END/END/END