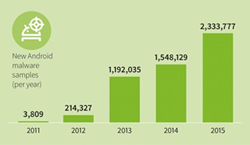 Atlanta, GA (PRWEB) February 24, 2016
Today, global security firm, G DATA, released its Q4 2015 Mobile Malware Report which found that the number of new malware instances rose to a record high of over 2.3 million in 2015. During the same timeframe, almost 40 percent of U.S. smartphone users used an Android device. Additionally, the report found that the number of new Android malware apps increased by almost 50 percent compared to 2014. G DATA experts expect a further increase in mobile malware in 2016. One reason for this is that more and more users are using their mobile devices for online banking and shopping as an alternative to the desktop PC.
"With the increase in mobile usage for sensitive transactions such as banking and shopping, the increase in mobile malware instances as well as malware apps is particularly alarming," said Andy Hayter, security evangelist, G DATA. "The attack surface just continues to grow, and hackers are taking advantage. Users have to be more and more vigilant every day to protect themselves from becoming the next victim."
G DATA security experts identified 758,133 new Android malware files in the fourth quarter of 2015. That is an increase of almost 32 percent compared to the third quarter (574,706). Hence 2015 attained another negative record, with a total of 2,333,777 new malware programs for the Android operating system.
G DATA forecasts for 2016

Evolution in Android malware: Cyber criminals have spotted the potential for high financial gain in the Android operating system. The switch from PCs to mobile devices will continue in 2016. For this reason, experts expect a further significant increase in malware figures.
The Internet of Things in cyber criminals' sights: Connected vehicles, fitness wristbands and networks – the Internet of Things is becoming more and more popular, within our homes as well as at work. Criminals are stepping up their activities in this area and are specifically looking for security holes in order to exploit them. Numerous end devices are controlled via Android apps. The experts expect the threat to increase in 2016.
The G DATA Mobile Malware Report is available online at https://secure.gd/dl-us-mmwr201504
About G DATA
IT security was invented in Germany: G DATA Software AG is the antivirus pioneer. It was more than 28 years ago that the company, founded in Bochum in 1985, developed the first program to combat computer viruses. These days, G DATA is one of the world's leading providers of IT security solutions.
Test results prove that IT security "Made in Germany" offers Internet users the best possible protection. Stiftung Warentest has been testing Internet security products since 2005. In all seven tests performed between 2005 and 2014, G DATA achieved the best virus detection rate. In comparative tests by AV-TEST, G DATA regularly demonstrates the best results in the detection of computer malware. Internationally, G DATA INTERNET SECURITY has also been awarded best Internet security package by independent consumer magazines – in countries such as Australia, Austria, Belgium, France, Italy, the Netherlands, Spain and the USA.
The product range comprises security solutions for end customers as well as medium to large-sized enterprises. G DATA security solutions are available in more than 90 countries worldwide.
For more information about the company and G DATA security solutions, see http://www.gdata-software.com.