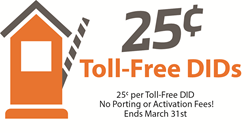 A Toll-Free number gives your business credibility, especially if it's a vanity number. By offering these numbers for a mere quarter, businesses can start building their notoriety at a great price. -- Jason Tapolci, President of VoIP Innovations
Pittsburgh, PA (PRWEB) February 24, 2016
VoIP Innovations, a premier wholesale VoIP carrier, announced today that they began offering a time-limited promotion of 25¢ Toll-Free DIDs. The DIDs will not incur any Activation or Porting fees. This special promotion will end on March 31, 2016.
Toll-Free numbers with several different prefixes are available including the highly requested 1-800.
Jason Tapolci, President of VoIP Innovations, says, "A Toll-Free number gives your business credibility, and especially if it's a vanity number—a national presence." Mr. Tapolci continued, "By offering these numbers for a mere quarter, businesses can start building their notoriety at a great price; it's a smart investment."
With VoIP Innovations' Toll-Free DIDs, customers have access to US and Canadian destinations. Their RespOrg can be accessed and purchased directly from SMS800 (National TFN Database). Calls can be routed over multiple Tier 1 carriers and they provide carrier redundancy and failover protection.
Until March 31, 2016, this special promotion can be accessed from VoIP Innovations by logging into your BackOffice account and selecting Toll-Free numbers with the USDISC labeling. If you're not already a VoIP Innovations' customer, please sign up for a Free Trial and receive a $5 credit on your account.
About VoIP Innovations:
VoIP Innovations is an Inc. 5000 company that specializes in providing the largest DID and termination VoIP footprints in North America. Their network includes over 500,000 DIDs in stock in over 8,500 rate centers in the US and Canada. Recently, VoIP Innovations expanded their footprint to include DIDs in over 60 countries and now offers A-Z termination. VoIP Innovations is owned by ABG Capital and is based in Pittsburgh, PA. To learn more, please visit the VoIP Innovations Blog.