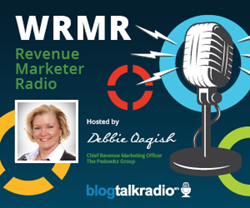 "WRMR Power TalkRadio is the only radio show on air showcasing real marketing practitioners in the trenches with real lessons and success stories to tell at a leadership level," notes WRMR Host, Debbie Qaqish."
(PRWEB) February 23, 2016
Revenue Marketing™ company, The Pedowitz Group (TPG), announces the launch of Season Two of WRMR PowerTalkRadio for Revenue Marketing Leaders, on Thursday March 3 at 1:00PM ET. During the 30 minute live show, Meagen Eisenberg, CMO at MongoDB, will reveal her winning formula for enterprise demandgen. Listeners will learn how she and her marketing team are uncovering new sales opportunities and building an internal sales engine to leapfrog the competition.
Listeners can call into the show: 646-478-5604 to talk directly with Meagen or Debbie. #wrmrradio is the official hashtag for questions or comments related to the show.
Hosted by Debbie Qaqish, the "Queen of Revenue Marketing," WRMR Power TalkRadio is a weekly radio program featuring high profile interviews with today's most successful Revenue Marketing leaders. WRMR is the only radio show on air showcasing real marketing practitioners in the trenches with real lessons and success stories to tell at a leadership level.
During each show, guests provide strategic and tactical advice on how they have personally transformed marketing within their organizations to drive repeatable, predictable, and scalable revenue. The program is presented in a dynamic, conversational and highly interactive format. Audience members are encouraged to call into the show to ask questions.
Sample of Future Guests:
March 10: Stephanie Meyer, Head of Marketing, and Milt Hwang, IT Leader, GE Healthcare
Topic: "Educate, Inspire & Deploy: Secrets to Global Marketing Transformation"
March 17: Ron Shah, CFO and Liz Sophia, Senior VP of Marketing, Hodges-Mace
Topic: "The Real Key to Marketing Agility: Financial Alignment"
April 14: Scott Brinker, Co-founder & CTO, ion interactive, Editor of chiefmartec.com and Program Chair of MarTech
Topic: "Hacking Marketing: The Role of Technology in Transformation"
Show History:
Qaqish launched WRMR Power TalkRadio in 2009 and to date has interviewed 89 guests from companies including Dun & Bradstreet, GE Healthcare, Lenovo, McKesson, Microsoft and others. Each past episode is available on-demand here and covers hot button topics such as:

The Evolution of Modern Marketing (Microsoft)
The Critical Role of Marketing Ops in Revenue Marketing (Lenovo)
From Engineer to VP of Marketing: A Revenue Marketing Success Story (MedAssets)
About the Host
Debbie Qaqish is Chief Strategy Officer and Principal Partner for The Pedowitz Group where she leads the company's thought leadership initiatives and manages global client relationships. Queen of Revenue Marketing™, Debbie wrote the award-winning book, Rise of the Revenue Marketer™. She is a PhD candidate and teaches an MBA course at the College of William & Mary on Revenue Marketing.
In 2016 SLMA named Debbie one of the Top 40 Most Inspiring in Sales Lead Management. For the last four years, Debbie has been named One of the Most Influential People in Sales Lead Management. She has also won SLMA's Top 20 Women to Watch distinction. In 2014 FierceCMO Magazine named Debbie one of the Top 10 Women CMOs to Watch.
Debbie writes a marketing column for Strictly Marketing Magazine and speaks regularly at industry events throughout North America. Last year Debbie delivered a keynote address to over 1500 executives at Microsoft's Partner Conference where she discussed marketing's evolving role in the age of digital transformation.
About The Pedowitz Group – Connecting Marketing to Revenue™
The Pedowitz Group, an Inc. 500 company, is the world's largest full-service Revenue Marketing™ firm. A two time Pacesetter winner, The Pedowitz Group helps global clients transform their marketing organizations from cost centers to revenue centers by assessing and optimizing six controls: strategy, people, process, technology, content and results. As the authority on Revenue Marketing Transformation™, the company has helped over 1,200 clients begin the journey to driving predictable, repeatable and scalable revenue results. The Pedowitz Group customers have won over 40 national awards for their Revenue Marketing excellence. For more information on how The Pedowitz Group helps clients become successful Revenue Marketers™, visit http://www.pedowitzgroup.com, call us at 855-REV-MKTG or visit Revenue Marketer Blog.
# # #