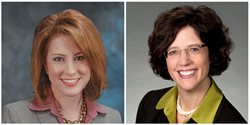 At PYA, we recognize and reward outstanding efforts and leadership. Shannon's and Tynan's promotions to Equity Principals reflect their exceptional work and commitment to the growth of our Firm
Knoxville, TN (PRWEB) February 25, 2016
PYA has announced the promotion of Consulting Principals Shannon Sumner and Tynan Olechny to the level of Equity Principals, effective January 1. Sumner first joined PYA in 1993, went on to serve a healthcare internal audit company as its senior vice-president and chief quality officer, then returned to PYA where she has since served in various capacities—as managing principal of PYA's Nashville office, as manager of the Firm's compliance services, and as PYA's compliance officer. Olechny originally joined the Firm in 2000, then spent several years providing oncology strategic planning expertise for community hospitals/health systems, academic medical centers, and physician groups before returning to PYA, where she has demonstrated a higher level of proficiency in performing fair market value analyses and business valuations for numerous healthcare facilities.
"At PYA, we recognize and reward outstanding efforts and leadership. Shannon's and Tynan's promotions to Equity Principals reflect their exceptional work and commitment to the growth of our Firm," said PYA President Marty Brown. "Their list of accomplishments and unwavering dedication to clients epitomize what PYA represents."
A certified public accountant who is also certified in healthcare compliance, Sumner specializes in the identification and assessment of compliance risks and related internal controls in hospitals and physician practice operations. She holds a Master of Accountancy from the University of Tennessee and possesses more than 20 years of industry know-how in healthcare internal auditing; compliance programs; and internal controls for health systems, hospitals, physician practice groups, and other healthcare entities. "This promotion is an enormous honor. I am passionate about helping our clients establish compliance and internal audit solutions, and I look forward to contributing to the future successes of our organization," said Sumner.
Sumner is involved in multiple organizations including the Nashville Health Care Council, Institute of Internal Auditors, Health Care Compliance Association, and the American Health Lawyers Association (AHLA).
Olechny, a certified valuation analyst, holds a Master of Business Administration and a Master of Public Health from Emory University. In addition to performing valuations and fair market value analyses of medical practices and physician and hospital transactions, she is well-versed in medical staff development planning and physician needs assessments; financial and strategic planning; and facilitating competitive, industry, and market analyses for physician groups, community hospitals and health systems, and academic medical centers. "I am thrilled to belong to such an exceptional team, and am eager to serve the Firm and our clients in this new capacity. Assisting our clients with their valuation and other business advisory needs in an ever-changing era of healthcare is a rewarding endeavor," she said.
Olechny is a member of the National Association of Certified Valuation Analysts, AHLA, and the American College of Healthcare Executives, among others, and frequently speaks on valuation-related topics for healthcare organizations.
About PYA
For over three decades, Pershing Yoakley & Associates (PYA), a national professional services firm providing management consulting and accounting, has helped its clients navigate and derive value amid complex challenges related to regulatory compliance, mergers and acquisitions, governance, business valuations and fair market value assessments, multi-unit business and clinical integrations, best practices, tax and assurance, business analysis, and operations optimization.
PYA's steadfast commitment to an unwavering client-centric culture has served the firm's clients well. PYA is now ranked by Modern Healthcare as the 9th largest privately owned healthcare consulting firm in the US. PYA is also ranked 103rd by INSIDE Public Accounting's "Top 200" Largest Accounting Firms. PYA affiliate companies offer clients world-class data analytics, professional real estate development and advisory resources, comprehensive claims audits for self-insured Fortune 500 companies, wealth management and retirement plan administration, and business transitions consulting.
PYA is headquartered in Knoxville, Tennessee. For more information, please visit http://www.pyapc.com.