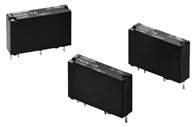 Wilmington, MA (PRWEB) February 25, 2016
Heilind Electronics, a leading global distributor of electronic components, has added Omron's new G6DN PCB power relays to its extensive line of Omron products.
Measuring 5mm wide, these miniature SPST power relays feature contacts with a high-capacity resistive switching load rating of 5A at 250VAC for 80,000 cycles. The high electrical endurance of these relays is complemented by high contact reliability – each relay is specially designed with cross bar twin gold-plated contacts.
Compared to its earlier counterparts, the G6DN offers a very low coil consumption of 110mW, as well as a higher ambient temperature of -40 to +90 degrees Celsius.
Ideal for PLC output, temperature controllers, and building automation applications.
Visit Heilind's website for more information about Omron G6DN Power PCB Relays.
About Heilind Electronics
Founded in 1974, Heilind Electronics, Inc. (http://www.heilind.com/http://www.heilindasia.com) is one of the world's leading distributors of connectors, relays, sensors, switches, thermal management and circuit protection products, terminal blocks, wire and cable, wiring accessories, and insulation and identification products. Heilind has locations throughout the U.S., Canada, Mexico, Brazil, Germany, Singapore, Hong Kong, and China. Follow Heilind on Facebook at facebook.com/Heilind and on Twitter at twitter.com/Heilind.