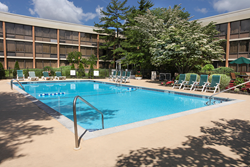 Ultimately we try to simplify things, and provide our guests with one stop shopping, as the Hotel really offers everything a sports team may be seeking. Of course our centralized location is also a big plus for all guests
Nassau County, Long Island (PRWEB) February 26, 2016
The Holiday Inn Westbury - Long Island Hotel is centrally located in Nassau County. The Hotel is located near many popular sports complexes and facilities, which provides guests that choose the Holiday Inn Westbury to be their host with added value and convenience when visiting the area.
The Hotel is situated just minutes from the Mitchel Athletic Complex, which is considered the "Hub" area of Nassau County, Long Island. The complex sits on 49 acres, and is host to an array of high school and collegiate events throughout the year. Athletes from all over the country visit the complex to participate in competitions such as soccer, lacrosse, football and track and field.
Just a short distance away is the beautiful 930 acre Eisenhower Park. Right within the Park is the Aquatic Center, which is recognized as one of the finest swimming facilities in the U.S. The Aquatic Center was originally built within Eisenhower Park in 1998 to host the International Goodwill Games, and since then, the Center has hosted hundreds of major swimming and diving competitions with athletes traveling from all over the world, and the Holiday Inn Westbury has been fortunate enough to be the preferred hotel by many.
Eisenhower Park also has three outstanding golf courses, which are patriotically known as the Red, White and Blue courses. The Red course has been host to several major golf tournaments, including the Commerce Bank (PGA) Championship. The Park's courses have also been routinely utilized to host tournaments for collegiate teams, and some well known high schools. The course has also been host to many amateur golf tournaments, and various golf associations and clubs have utilized the beautiful courses on many occasions.
Eisenhower Park is also home to the Northwell Health Ice Center (formerly known as the Twin Rinks Ice Center), which is managed by the New York Islanders. The Ice Center is host to many leagues, and it also offers various camps and clinics for skaters and hockey players of all ages. The Ice Center is a topnotch facility that seems to continue evolving into something even greater.
As the nearby facilities have continued to develop, the Holiday Inn Westbury continues to host more and more sports teams and athletes. As a full service Hotel with 152 rooms, which includes over 90 rooms with double beds, the Hotel is just the ideal host for many traveling to Long Island to partake in the many sporting events that are held in the area. The Holiday Inn's General Manager, Franklin Manchester, stated why he believes the Hotel is ideal for sports teams and alike, "Our sales team and customer service team are very familiar with hosting sports teams, and we ultimately make things very simple for our groups. We often know what they expect, and we do all we can to meet and exceed their expectations. Ultimately, we try to simplify things, and provide our guests with one stop shopping, as the Hotel really offers everything a sports team may be seeking. Of course our centralized location is also a big plus for all guests."
The Holiday Inn Westbury's amenities and services include a full-service restaurant, outdoor garden courtyard and pool, complimentary WiFi, 24-hour business center, 24-hour fitness center, courtesy shuttle service, complimentary guest parking, full banquet and catering capabilities, meeting rooms, 24-hour guest laundry facility, and same day valet laundry service. As part of the Intercontinental Hotels Group (IHG), guests may earn exclusive IHG Rewards Club points, which can be utilized at over 5,000 hotels worldwide.
The Hotel is also located by many nearby attractions and points of interest, which includes the Roosevelt Field Mall, museums, Gold Coast mansions, Jones Beach State Park, Hofstra University, Adelphi Iniversity, Nassau Community College, restaurants, and the Long Island Rail Road. In between sporting events, guests may enjoy the Hotel's services, or venture out to see Long Island and the Big Apple, which is just a 40 minute train ride from the nearby Carle Place Train Station.
Whether one is traveling as part of group, with family, or independently, they are sure to enjoy the Holiday Inn Westbury. For additional information, guests are encouraged to visit the Hotel's website at http://www.hiwestburyhotel.com, or simply contact the Hotel at 516-997-5000. Group inquiries may be made to info@hiwestbury.com.