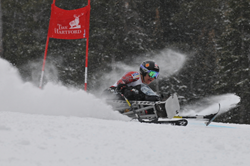 I am thrilled to partner with TFA and join the growing family of fellow Paralympic athletes across a wide range of sports. - Andrew Kurka
Minneapolis, MN (PRWEB) February 25, 2016
The Factory Agency ("TFA"), a Minneapolis based specialized sports and entertainment marketing agency, is excited to announce the signing of U.S. Paralympic Alpine Skier and Sochi 2014 Winter Paralympian, Andrew Kurka (Palmer, Alaska) to it's growing roster of Paralympic clients.
Just three months after breaking his femur in a skiing accident and only one month after returning to the snow, Andrew Kurka won his first world championship medal with bronze in the men's super-G sitting race in 2015. The 23-year-old from Palmer, Alaska went on to earn a national title in giant slalom and multiple victories at U.S. Nationals, ending the season with a top-10 ranking in the downhill and super-G disciplines. Kurka, who injured his back in a training run before the Sochi 2014 Paralympic Winter Games, is starting the 2015-2016 season right on track with already several podiums at IPCAS Alpine Skiing races as he eyes PyeongChang in 2018.
Andrew Kurka's first Olympic dream wasn't on the slopes, but on the wrestling mat, as he was a six-time Alaskan state champion in freestyle and Greco-Roman wrestling. However, his dream took a detour at age 13 after an ATV accident severely damaged three vertebrae in the middle of his spinal cord. Two years after his accident, he first tried the monoski on the encouragement of his physical therapist through a program called Challenge Alaska. Kurka is a lifelong Alaskan who seeks out the toughest lines down the mountain. He became the first person in a monoski to ski the Christmas Chute on the North Face of Mt. Alyeska in Girdwood, Alaska.
In looking ahead to the PyeongChang 2018 Winter Paralympic Games, Kurka states, "I am thrilled to partner with TFA and join the growing family of fellow Paralympic athletes across a wide range of sports. Through my partnership with TFA, it will allow me to build upon my passion and mission to give back to others and raise awareness for Adaptive Sports through our collective work both on and off the slopes, through the development of various corporate, media and philanthropic opportunities leading up and through the 2018 Winter Games."
Kurka and his fellow U.S. teammates will close the world cup circuit on their home snow as they host the IPC Alpine Skiing World Cup Final in Aspen, CO beginning Wednesday, February 24th. Giant slalom and slalom races will take place February 24th – 26th, followed by downhill and super-G competition from February 28th – March 4th.
"We are extremely thrilled for Andrew Kurka to join the TFA family. With his unwavering passion to support the growth and awareness of the opportunities within the Adaptive Sports community and his strong performances on the slopes over the past couple years, along with being highlighted by Team USA as one of "16 Athletes to Watch in 2016," Andrew has quickly become a top competitor and leader for Team USA," says Managing Partner, Jeremy Snyder. "TFA will work with Andrew in sharing his inspirational story through the development of corporate partnerships, endorsements, marketing opportunities, philanthropic opportunities, speaking engagements, personal appearances and media opportunities leading up and through the PyeongChang 2018 Winter Paralympic Games."
###
About The Factory Agency
The Factory Agency is a specialized sports and entertainment marketing agency helping their clients develop a holistic brand that connects each phase of their lives to paint a cohesive, lasting image. By focusing on the five pillars of brand development – professional career, philanthropy, business interaction, resources/infrastructure, and public exposure – and tying each component together to reinforce an overarching message, TFA shapes clients' desired brand image and develops a plan to monetize the opportunities through the vast network of corporate, media, and personal relationships. Services and capabilities include: Talent Representation, Contract Negotiation, Marketing, Licensing & Endorsements, Speaking Engagements & Appearances, Event Production & Management, Philanthropic Consulting & Support, Media Production & Development, Corporate Consulting, Sponsorship Sales, and Hospitality & Concierge Services. For more information visit http://www.factory-agency.com.