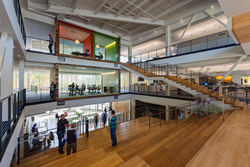 The highly interactive design process we used was as unique as the solution. The result is a site-specific solution that facilitates change in workflow desired by Lake Trust.
Brighton, Mich. (PRWEB) February 26, 2016
With a highly "un-bank" design that was heavily influenced by a series of employee collaboration workshops, SmithGroupJJR and The Christman Company have completed a $26 million new headquarters building for Lake Trust Credit Union in Brighton, Michigan.
The headquarters is a new home for 240 employees of Lake Trust who were formerly spread between separate facilities in the nearby cities of Lansing, Plymouth and Brighton. Designed to accommodate growth to a staff of 325, it features a workplace-transforming, 100% open work environment that is a major departure from the often-stuffy setting that normally houses financial institutions. Christman and SmithGroupJJR led a pre-design Purposeful FacilitiesTM and Workplace Strategy process to help set key organizational culture, employee engagement, operational capabilities, and collaboration goals.
"From beginning to end, as we worked with Lake Trust on strategic facility analysis and planning, land acquisition and other elements, their clearly articulated vision on who they are as an organization really led the way," said Paul Jacob, Christman project director.
The SmithGroupJJR team held a series of design workshops with Lake Trust employees, with each session directly involving up to 40 participants. "The highly interactive design process we used was as unique as the solution," said SmithGroupJJR lead designer Bob Varga, AIA, LEED AP. "The result is a site-specific solution that facilitates change in workflow desired by Lake Trust."
The new 100,000-square-foot, three-story building sits on a natural 16-acre site in southeastern Michigan that features wetlands, woodlands and a rolling topography with sweeping views. SmithGroupJJR's design connects to the natural site with a two-story front porch, second floor balcony providing outdoor dining, and terrace overlooking a two-acre wetlands situated north of the building. A half-mile walking trail through the woods provides employees with an exercise option while climbing to the site's highest point for sweeping views. Reflecting the heavily wooded surroundings, tree-like columns support the canopy over the building's main entry. A large, living wall serves as the backdrop to the front entry porch, creating a welcoming space to relax, work, or meet.
Inside the building, the untraditional, "un-bank" environment continues. A grand stair in the atrium, which functionally and socially connects the building's three levels, can be used as an impromptu auditorium and presentation space. At the top of the stair is a coffee bar and seating area that can open to the front porch for indoor/outdoor seating. Amenities on the ground floor include a full-service cafeteria and dining space, as well as three, large multi-purpose rooms that can be transformed from independent rooms for simultaneous meetings to a single space for large community events, educational seminars and internal training.
"The high performance space we've created is very un-corporate like. It's a place that you would probably assume could be for a company like Google or Facebook," said David Snodgrass, president & CEO, Lake Trust Credit Union. Snodgrass and other senior management sit at adjustable-height workstations alongside all Lake Trust team members, rather than inside private offices.
The new headquarters building is targeting LEED Silver certification by the U.S. Green Building Council. Sustainable design features include large expanses of glass that allow natural daylight to filter the interior workplaces, reducing the need for overhead lighting during the day. Highly efficient, insulated glass with a Low-E coating allows energy from the sun to enter in the winter month and warm the space, while reducing solar heat gain in the summer. The wood paneling on the building accent walls are refurbished pieces from demolished buildings in Detroit. Bioswales restored with native vegetation were used throughout the site for storm water management.
The credit union will save $7 million in operating costs over 20 years with the consolidation into the new headquarters building.
High collaboration between the members of the entire design and construction team was critical to the project's success. SmithGroupJJR's Detroit office provided full design services including programming, architecture, interior design, comprehensive engineering (mechanical, electrical, plumbing, structural and civil) and landscape design. The Christman Company, Lansing, Michigan, provided a wide array of development, program management and construction management services. Interior Environments, Novi, Michigan, partnered with the team to provide the furniture solution.
Lake Trust Credit Union lives up to its name, with branches that stretch from Lake Michigan to Lake Huron. With over 167,000 members and $1.6 billion in assets, it's the fourth largest credit union in Michigan. Lake Trust sponsors nearly 100 events locally each year, reaching across the state to create stronger communities. Membership is open to anyone who lives, works, worships or attends school in its 35 county service area.
SmithGroupJJR (http://www.smithgroupjjr.com) is a recognized, integrated architecture and engineering firm ranked Top 10 in the U.S. by Building Design + Construction magazine. The firm's nationally recognized Workplace Practice has completed the planning and design of more than 25 million-square-feet of corporate, government, institutional and private development projects related to workplace environments and urban development. Other headquarters buildings recently completed by the firm include DPR Construction Regional Headquarters, Phoenix, and American Red Cross Bay Area Headquarters, San Francisco. With 128 LEED certified projects, SmithGroupJJR is a leader in sustainable design.
The Christman Company (http://www.christmanco.com), founded in 1894, is one of the country's leading professional construction services firms, ranked at #111 on the Engineering News-Record ENR 400 list of top contractors nationally. The company's award-winning services include construction management, general contracting, design/build, real estate development, facilities analysis and planning, and self-performed skilled trades. Christman is currently managing over two billion dollars of projects in several key market sectors, including corporate office, historic preservation and adaptive reuse, government/institutional, healthcare, educational (university and K-12), data center, science and technology, power generation, and industrial. The company maintains 10 offices throughout Michigan, the southeast US, and mid-Atlantic.