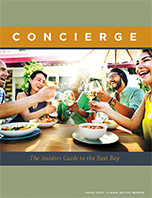 The relaunched publication allows our clients to reach a new, affluent market with an advertising platform—Barney Fonzi, President of Diablo Publications
Walnut Creek, CA (PRWEB) February 29, 2016
Diablo Publications today announced the relaunch of Concierge —The Insiders Guide to the East Bay, also called Concierge East Bay (CEB). CEB offers overnight business and leisure travelers an in-depth look at what to see and do in the San Francisco East Bay. CEB is the East Bay's only hardcover in-room guest guide written from a local perspective. It features beautiful photography with information on dining, shopping, entertainment, spas, day trips, outdoor recreation and fun for kids. The publication is distributed to more than 10,000 hotel rooms and read by more than 1.7 million upscale leisure and business travelers annually.
In addition to the printed version, Diablo Publications has released the Concierge East Bay app for IOS, Google and the Kindle marketplace. The app offers listings and reviews about local dining, transportation, entertainment, bars and alehouses, shopping, recreation, and spas & salons. Many of the dining listings have summary reviews from the editors at Diablo magazine. The app displays all listings in alphabetical order and distance from your location. Within the app listings, readers can make reservations through Open Table (without leaving the app), access user reviews and utilize social share. In addition to the resource listings, the app has a built-in RSS feed from the diablomag.com Happenings section, providing a real-time feed of current information on what to do in the East Bay and surrounding areas.
"The demand was so great from hotels and visitors to the East Bay, we decided to bring back Concierge East Bay. We also wanted to provide a valuable resource for guests to the region," states Barney Fonzi, President of Diablo Publications. "The relaunched publication allows our clients to reach a new, affluent market with an advertising platform in print that has an extremely long shelf life. Additionally, advertisers in the print edition receive premium placement within the Concierge app."
ABOUT DIABLO PUBLICATIONS
For 35 years, Diablo Publications, an employee-owned company, has been creating award-winning publications, including Diablo magazine, Napa Sonoma magazine, Diablo Weddings, the Diablo City Book Series, Diablo Arts, Concierge East Bay and the Tri-Valley California Visitors Guide. Diablo Publications' custom content division, Diablo Custom Publishing (DCP), provides complete print and online marketing communications and customer publishing services for corporate clients nationwide. For more information, visit diablopublications.com, dcpubs.com, diablomag.com, napasonomamag.com or diabloweddings.com. Diablo Publications is an employee-owned company.
ABOUT DIABLO MAGAZINE
Covering topics ranging from travel, culture, and personalities to entertainment, recreation, and food, Diablo magazine is written specifically for the San Francisco East Bay market—from Central Contra Costa, into the Oakland and Berkeley hills, and throughout the Tri-Valley. With locally driven editorial content, beautiful photography, and resource listings, Diablo is a unique celebration of the San Francisco East Bay. Published since 1979, Diablo has been recognized for its editorial and design with numerous awards, including previous Maggie Awards for Best Overall Publication and Best Regional and State Magazine in the consumer category.