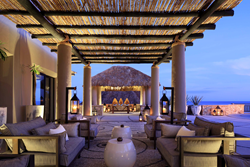 "We are honored to receive the Five-Star distinction by Forbes Travel Guide recognizing Auberge du Soleil and Esperanza as two of the finest hotels in the world," said Craig Reid, Chief Executive Officer
Mill Valley, California (PRWEB) February 26, 2016
Auberge Resorts Collection, owner and operator of boutique luxury hotels, resorts, residences and private clubs, announced today that two of its iconic resorts, Auberge du Soleil in Napa Valley and Esperanza,, an Auberge Resort in Los Cabos, have been awarded Forbes Travel Guide Five-Star hotels for 2016.
With the announcement, Auberge du Soleil remains the only Five-Star rated hotel in Napa Valley, while Esperanza for the first time becomes a part of the elite group of 154 Five-Star hotels in the world, and is one of only two Los Cabos hotels to receive this prestigious Five-Star award. Forbes Travel Guide rated 1,262 properties for its 2016 announcement, which included rating Los Cabos properties for the first time since its inception in 1958.
"We are honored to receive the Five-Star distinction by Forbes Travel Guide recognizing Auberge du Soleil and Esperanza as two of the finest hotels in the world," said Craig Reid, Chief Executive Officer, Auberge Resorts Collection. "Authentic and sincere expressions of service are an Auberge hallmark. This is a true testament to our team members' dedication and passion for delivering unparalleled customer service to our guests. I thank all our team members for their commitment to our guests."
The Five-Star award is bestowed to properties that meet the most stringent and comprehensive hospitality standards in the industry, set forth by Forbes' professional and anonymous inspectors with rigorous testing against up to 800 objective standards that examine every aspect of the property experience. The select group of hotels are noted for "virtually flawless service and the finest of amenities… a destination unto itself," according to Forbes.
"Forbes Travel Guide's continued recognition of our flagship, Auberge du Soleil, underscores our passionate commitment to service," said Dan Friedkin, Chairman, Auberge Resorts Collection. "We're gratified to see Esperanza claim top honors following its year-long redesign. Both properties represent the very best of the best."
Esperanza's comprehensive redesign unveiled in 2015 ushered in a new era of luxury and sophistication for the property. The resort underwent an extensive renovation – a complete transformation of all guest rooms and public spaces and the introduction of a new Pesca Ceviche Bar. Esperanza's team continues to extend the warm hospitality and service that the resort is known for and continues to introduce new locally-inspired culinary, fitness and Auberge Adventure experiences that connect guests to the destination.
Auberge du Soleil has become synonymous with the quintessential wine country experience for hotel guests and dining patrons. From the moment guests arrive, the hotel exudes excellence, from its spacious, masterfully designed accommodations, to its Michelin-starred restaurant under the direction of Executive Chef Robert Curry, to its extensive award-winning international wine collection, to its acclaimed Auberge Spa – all nestled on a hillside showcasing spectacular views of the acclaimed Napa Valley vineyards below, visible from nearly every angle of the property.
For a detailed explanation of how Forbes Travel Guide compiles its Star ratings, visit http://www.forbestravelguide.com/about/ratings.
About Auberge Resorts Collection
Auberge Resorts Collection owns and operates a portfolio of exceptional hotels, resorts, residences and private clubs under two distinct brands: Auberge Hotels and Resorts, timeless luxury properties acclaimed for their intimate, understated elegance, and VieVage Hotels and Resorts, a new lifestyle brand that brings together contemporary themes of design, community and wellness in a fresh, active and social environment. While Auberge nurtures the individuality of each property, all share a crafted approach to luxury that is expressed through captivating design, exceptional cuisine and spas, and gracious yet unobtrusive service. Properties in the Auberge Resorts Collection include: Auberge du Soleil and Calistoga Ranch, Napa Valley, Calif.; Esperanza, Cabo San Lucas, Mexico; Hotel Jerome, Aspen, Colo.; Malliouhana, Anguilla; Nanuku, Fiji; The Auberge Residences at Element 52, Telluride, Colo.; Hacienda AltaGracia, Pérez Zeledón, Costa Rica; VieVage, Napa Valley; VieVage, Los Cabos; and Auberge Beach Residences and Spa Fort Lauderdale, with several others in development. For more information about Auberge Resorts Collection, please visit http://www.aubergeresorts.com/. Follow Auberge Resorts Collection on Facebook at facebook.com/AubergeResorts and on Twitter at @AubergeResorts.
About Forbes Travel Guide
Forbes Travel Guide, formerly Mobil Travel Guide, is the originator of the prestigious Five-Star Rating system, and has provided the travel industry's most comprehensive ratings and reviews of hotels, restaurants and spas since 1958. Forbes Travel Guide has a team of expert inspectors who anonymously evaluate properties against up to 800 rigorous and objective standards, providing consumers the insight to make better informed travel and leisure decisions. Forbes Travel Guide is the gold standard for luxury hospitality ratings worldwide. For more information about Forbes Travel Guide, visit ForbesTravelGuide.com.
ForbesTravelGuide.com combines the objectivity and heritage of the Forbes Travel Guide Star Rating system with insightful recommendations from a hand-selected group of travel experts, tastemakers and Forbes Travel Guide inspectors. ForbesTravelGuide.com is the sole online destination for Forbes Travel Guide's list of Star Rated hotels, restaurants and spas, and gives its registered members exclusive access to special offers and curated experiences from select Forbes Travel Guide partners.