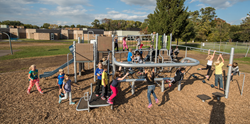 Delano, Minn. (PRWEB) March 01, 2016
Landscape Structures Inc., a Delano, Minn.-based commercial playground equipment manufacturer, has expanded its line of Smart Play® play structures with a design especially for 5- to 12-year-olds. Smart Play: Venti™ provides challenges that promote development and strategic thinking, while also creating hangouts for social interaction.
Smart Play: Venti, which means twenty in Italian, packs 20 exciting activities into its compact size. Smart Play: Venti requires less space and surfacing material than typical playgrounds resulting in a lower total investment. Plus, the play structure is ADA compliant, and offers multiple entry points and plenty of activities to accommodate a whole class at once.
Smart Play: Venti joins Smart Play: Cube 2-5 and Smart Play: Motion 2-5, which were introduced in 2015 and 2014 respectively, to make up the Smart Play line of play structures. These compact playground designs are a great choice for schools or childcare centers that have limited outdoor space. And the affordable price of the play structures meets tight budget requirements.
Even more, the Smart Play structures not only provide smart design to help create smart kids, but they are manufactured with a smart use of materials. The manufacturing of the Smart Play playstructures, similar to the manufacturing process of all Landscape Structures playground products, is focused on efficient use of materials to create minimal waste.
Watch Smart Play: Venti in action and learn about the 20 interactive play events found throughout this smart play structure at playlsi.com.
About Landscape Structures Inc.
Since 1971, Landscape Structures Inc. has been committed to enhancing children's lives by fostering and creating inspiring play experiences while honoring the environment. We create innovative playground equipment to inspire children to grown strong bodies and minds so their futures remain bright. And to further ensure a better tomorrow, we are sensitive to the environment through manufacturing practices that minimize our impact on the earth. Our goal from day one has been to foster healthy children playing in healthy communities year after year, generation after generation.