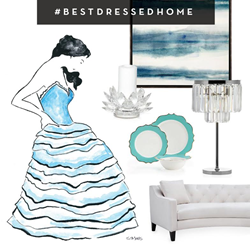 Los Angeles, CA (PRWEB) February 27, 2016
Z Gallerie announced today a live event on Sunday, February 28th celebrating Red Carpet style and its relationship to glamorous home decor in partnership with noted San Francisco-based fashion illustrator, Andrea Michelle Simons.
"Z Gallerie celebrates chic style in its seasonal collections of home furnishings, artwork, decor and lighting," says Chris Nicklo, Vice President, Customer and CMO. "We're fans of fashion and beauty in all forms and thought it would be a fun idea to showcase the relationship between Red Carpet style and our latest products and collections."
During the arrivals coverage, Andrea will illustrate five of the Z Gallerie design team's favorite gowns to pair with Z Gallerie's spring product collections. The fashion illustrations will be shared on Instagram and Twitter in real-time along with their home decor counterparts.
Social fans can follow the event in real-time on @ZGallerie's Instagram (instagram.com/zgallerie) and Twitter (twitter.com/zgallerie) and enter to win one of two original, signed fashion illustrations created on-the-spot by Andrea. Fans not able to follow live on Sunday will be treated to a #BestDressedHome recap email on Monday from the retailer. Fans can enter on Instagram at http://zgal.re/1QCmkqc and on Twitter at: http://zgal.re/1KR60WE
About Andrea Michelle Simons
Drawing figures since childhood, Andrea continues to develop her love for fashion illustration while being inspired by the evolution of fashion and the beauty in life's poses.
A San Francisco Bay Area native, Andrea is inspired by neighborhoods and architecture, often using it as a backdrop to her paintings. With sleek lines and pops of color she has captured a large commission audience. Painting custom works from kissing couples and novel covers to San Francisco views. Andreamichellesimons.com
About Z Gallerie
Headquartered in Los Angeles, Z Gallerie is a fashion forward lifestyle brand focused on the home. Since 1979, the brand has inspired interior decorators and stylish influencers with cutting edge design and sophisticated, accessible furnishings. Each season, Z Gallerie offers the latest ideas in furniture, art, home decor and entertaining tailored to each individual's personal style aesthetic. A catalog, a full online presence at zgallerie.com and 60 stores nationwide keep the iconic Z Gallerie name in the fashion home space.