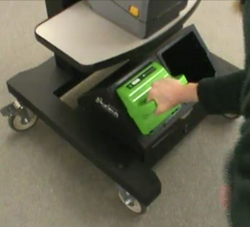 The light weight, compact size and long-lasting charge mean mobile power can be used to transform almost any existing workstation.
Haverhill, MA (PRWEB) February 29, 2016
NOTE: This article has been corrected from an earlier version which incorrectly stated the length of the "Guarantee".
Newcastle Systems "Nucleus" battery pack, made from an advanced design that provides more power for longer periods than other Lithium products in use, is now available for retrofit for almost any type of existing cart in your facility and the productivity improvements to be gained by making your workstations mobile. See a short video of the Nucleus' ease-of-use. (Click Here).
Already available on Newcastle's own carts, the lightweight and easy to access docking station can be attached to almost any other cart and instantly transform your workplace into a mobile workplace that can measurably improve productivity immediately.
The Nucleus is part of the PowerSwap line of products offered by Newcastle, and features some major advantages over other Lithium-based products currently in use:
One: A five to seven year battery life with every day use. Five times longer than typical Lithium products and providing a far superior Cost of Ownership.
Two: A guarantee unmatched in the industry. Every battery comes with a three year guarantee.
Three: At 11 pounds, the Nucleus is light enough for any employee on the floor to swap batteries and carry as needed to and from our custom charging stations.
Four: While the batteries power is made to last five years or longer, so is the battery itself with a tough, durable, break-resistant molded plastic casing that can withstand short drops on your shop floor.
Newcastle Systems PowerSwap Nucleus Powerpack is designed to expand productivity into all spaces of the operations and retail floor with its innovative mobile power solution that reduces excess worker motion, product transportation, and extra touches in the Receiving, Picking, Shipping, and/or Inventory Management process. See a short video demonstration here.
About Newcastle Systems
Newcastle Systems is an innovator of workplace mobility solutions for many of the world's leading retail and operations companies. As the leading provider of Mobile Workplace© solutions, Newcastle Systems provides the means to dramatically improve employee and facility productivity without major changes to your infrastructure, software or processes. A Newcastle Systems' Mobile Workplace© facility requires less equipment and less power to do the same work as a standard workplace configuration.
Newcastle Systems is a "Customer-First" Business whose philosophy is "Provide innovative solutions that make equipment more mobile and information more readily available across an entire enterprise. Period."
For more information: Please visit our website at http://www.newcastlesys.com or direct inquiries to us by phone at 781-935-3450 or by e-mail at sales(at)newcastlesys(dot)com.