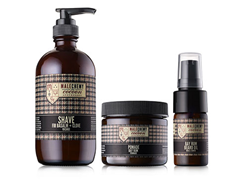 Kitchener, Ontario (PRWEB) March 01, 2016
After more than a decade creating skin care products with women in mind, Cocoon Apothecary has formulated a niche skin care line for men. MALEchemy attends to the exclusive needs of male skin that established Cocoon Apothecary products don't cover, particularly facial hair conditioning and shaving. The products are scented with aromatic seeds and woodsy organic essential oils like balsam fir, bay rum, cloves, and hemp rather than Cocoon Apothecary's signature blossom-derived ingredients.
Since establishing Cocoon Apothecary's premiere line 13 years ago, Founder Jessica Burman and her husband, General Manager Lane Burman, have always had male customers, but since production took place in their home's basement laboratory there wasn't enough room to cultivate facial-hair-friendly products. A recent move to an industrial laboratory granted the Burmans enough space to dedicate a portion of their brand to men. After several months of desks littered with essential oil samples, white boards scribbled with tweaked recipes and seemingly-endless product testing, MALEchemy launched on November 15, 2015.
The MALEchemy line consists of facial cleanser Cleanse – Tea Tree + Aloe ($25 CDN), facial moisturizer Moisturize – Juniper + Hemp ($30 CDN), 4 beard oils - Muskoka, Bay Rum, Humidor, and Übermint ($15 CDN each), shaving cream Shave – Fir Balsam + Clove ($30 CDN), Aftershave – Bay Rum ($22 CDN), and Pomade – Bay Rum ($20 CDN). As per the Cocoon Apothecary quality commitment, all ingredients are of the highest quality, natural, vegan, organic whenever possible, and packaged in eco-friendly glass containers.
It is a thrilling time to be part of the growing industry catering to men's personal grooming needs, and Cocoon Apothecary is pleased to increase men's availability to choose natural products.
About Cocoon Apothecary
Cocoon Apothecary is an eco-friendly artisanal skin care company located in Kitchener, Ontario. Since 2003 Founder Jessica Burman has been hand-making small-batch skin care products targeting the signs of aging with natural ingredients sourced ethically worldwide. Jessica started the line after a search for quality, natural skin care products came up short. Armed with an expanding knowledge of aromatherapy, botanical chemistry, and the dangers of petrochemicals, Jessica created the now best-selling facial cream Rosey Cheeks, and Cocoon Apothecary was born. By 2011 the business had grown to the point that her husband quit his job and joined her at Cocoon Apothecary full time. In addition to the Kitchener, Ontario boutique and online shop cocoonapothecary.com, Cocoon Apothecary products are carried in more than 40 stores and online shops across North America including Canadian online mega-retailer Well.ca.