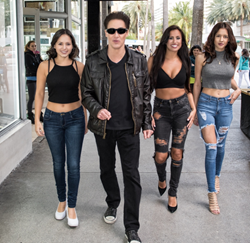 Pure pandemonium and mayhem, no holds barred, uncanny, unpredictable, zany and purely entertaining !!!!
Las Vegas, NV (PRWEB) February 29, 2016
Hot Comedy Reality TV Star, Jimmie Lee -The Jersey Outlaw recently made his debut in South Beach for his upcoming TV Comedy Reality Show, "Dangerously Funny". Jimmie has exploded into the comedy world with his unique brand of comedy that incorporates street comedy with ad-lib off the cuff uncensored skits that are hilarious. The Outlaw has filmed all over the country including Vegas, Atlantic City, Asbury Park, New York City and more. When The Outlaw hits the streets, nobody's safe and nothing's sacred ! It's pure pandemonium and mayhem, and it's no holds barred! Uncanny, unpredictable, zany and purely entertaining are Jimmie's trademarks that have made him a big name in the comedy world!
Jimmie Lee's live 2016 tour takes him to venues all over the country, too. He will be headlining at the Meadowlands Comedy Festival in Secaucus in Mid- April. Jimmie will also have a featured spot early April at the World Famous Icehouse Comedy Club in Pasadena, and a big spot at the Sapphire Comedy Club in Las Vegas in Mid- May. There's no stopping The Outlaw as he makes his way to comedy stardom, working 24-7!
Jimmie's comedy is an old school Vegas style, that combines elements of Dangerfield, Rickles, and Red Foxx, with a modern twist and smooth delivery. He is a comic's comic and always a crowd favorite. Jimmie is definitely a character, and goes to extremes in his stage shows as well as on the streets, and is now garnering national attention!
Be sure to check out Jimmie Lee at http://www.jimmieleecomedy.com
And don't miss his upcoming comedy reality TV show, as well as his live comedy shows!
Jimmie Lee is one Outlaw of a good nature, and you're gonna love him!