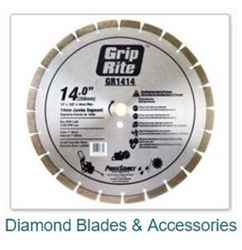 Urbana, IA (PRWEB) February 29, 2016
New product additions continue for E-commerce retailer FastenersPlus.com with new diamond blade saw blades and accessories now available on the company's website.
As with all of the products on FastenersPlus.com, each is available in bulk quantities, and custom price quotes are always available by calling the company's dedicated sales team.
The new additions are part of an overall product expansion that's been bringing in new items across several categories every month, says Merchandise Manager Eric Youngblood. Most recently, the company added a full line of wood connectors from Simpson Strong-Tie®.
"Our product categories are constantly being updated to ensure we're offering what our customers need," said Youngblood. "We also encourage customers to call or email us, even if they don't see what they're looking for; our sales team is always happy to search for products we may not show on the website."
In addition to diamond blades and wood connectors, the company also offers a variety of other hardware products such as pole barn screws and pipe flashing. Products are organized by both product type and brands to make it easy for customers to narrow down the selections and find what they need.
Youngblood says another goal of the newest product additions has been to offer the well-known brands that customers prefer. While the line from Grip-Rite is the newest available to customers, other popular brands available include Sealtite and RedHead®.
"We're excited about our product expansions, and are always keeping our eye on industry trends for any new items that may be a good fit for our customers' needs," said Youngblood.
All products can be purchased by visiting FastenersPlus.com or by calling toll free at 888-794-1590.
About Fasteners Plus
Fasteners Plus is an online specialty retailer offering a wide assortment of fasteners to contractors, business owners, and consumers. Combining high quality brand name hardware, tiered bulk pricing, and exceptional customer service, the company aims to offer customers a hassle-free shopping experience. Fasteners Plus is owned by Clickstop, Inc., an online retailer of niche brands in several different categories. Websites under the Clickstop company umbrella also include USCargoControl.com and EcoFoil.com. For more information, visit FastenersPlus.com.