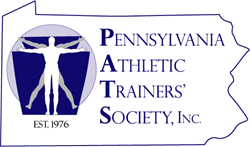 The Pennsylvania Athletic Trainers' Society is proud to announce the newest members to our Hall of Fame
BOOTHWYN, PA (PRWEB) February 29, 2016
The Pennsylvania Athletic Trainers' Society (PATS) is honored to announce the three individuals that will be inducted into the 2016 Pennsylvania Athletic Training Hall of Fame at the June symposium in Grantville, PA.
Rick Burkholder, MS, ATC, a long-time native of Pennsylvania, was born in Carlisle, PA. He attended the University of Pittsburgh, receiving his bachelor's degree in athletic training. Burkholder then left the state of Pennsylvania for a short hiatus to attend graduate school at the University of Arizona, but then returned to the University of Pittsburgh to join the athletic training staff.
Burkholder has vast experience at the professional athletic level. After leaving his alma mater, Burkholder began his career in the National Football League with the Pittsburgh Steelers before moving across state to the Philadelphia Eagles athletic training staff. He served as the Head Athletic Trainer for the staff when they were named the NFL's Athletic Training Staff of the Year in 2010. Burkholder also has been a member of the medical staff covering multiple National Football League Pro Bowl games in Honolulu, Hawaii.
Burkholder was a member of PATS from 1987 through 2013, serving as Western Representative on the Board of Directors, on the Convention Committee and as Co-Director of Education. Rick has also held memberships to many organizations throughout the country and currently holds the position of the Head Athletic Trainer with the Kansas City Chiefs and serves as the President of the Professional Football Athletic Trainers' Society. As president, his goal is to increase the hiring of females to current NFL athletic training staffs. Rick Burkholder is a second generation athletic trainer, whose father, Rick Burkholder, is a member of the inaugural Pennsylvania Athletic Training Hall of Fame class.
Jim Thornton, MA, ATC, CES, PES is a native of Mount Pleasant, Utah. He has quite the list of professional accomplishments ranging from publications and presentations to recognitions, leadership and service to the athletic training profession at the state, regional and national levels.
Thornton has been a member of PATS since 1996, serving on the Long Range Planning and Finance Committee. He has also served as an Executive Board Member for the Eastern Athletic Trainers' Association (EATA). Jim then began his extensive national career by serving as National Athletic Trainers' (NATA) Association District II Secretary. While serving as chair of the NATA Secretary/Treasurer Committee, Thornton was able to devise a plan to reallocate NATA dues money to the state and help increase state membership. The committee also supported state scholarships and the quiz bowl. Most notably, Thornton served as NATA President from 2012-2015, after serving as vice president from 2009-2012.
Many honors and awards have been bestowed upon Mr. Jim Thornton. He was named the 2007 PATS Service Award winner and the NATA Division II Athletic Trainer of the Year in 2008. In 2010 he was the recipient of Clarion University of Pennsylvania's Most Distinguished Volunteer Award for the work that was done on The George Garabino Athletic Scholarship Endowment.
Throughout Thornton's career, he has made many public appearances on the local, county, district, state and national levels. He has been keynote speaker for numerous events and has presented at many conferences about the future of the athletic training profession, mentoring young athletic trainers, wrestling weight management, and postural assessment.
Jim Thornton currently is the Head Athletic Trainer at Clarion University and serves as the athletic training liaison to the NCAA Wrestling Rules Committee, acting as the contact person for all NCAA wrestling in regards to weight-class certification procedures and the rules regarding disposition of athletes with skin infections.
Tom West, PhD, ATC is a native of West Long Branch, NJ. He earned both his bachelor and doctoral degrees from Penn State University, and his master degree from West Virginia University. Dr. West has had a huge impact on education in the athletic training profession. He has taught various courses at educational institutions including George Washington University, Penn State University, Bloomsburg University, Lock Haven University and currently at California University of Pennsylvania.
Dr. West has made significant contributions to the profession of athletic training since becoming a member of PATS in 1999. Most notably, he held the position of chair of the Convention Committee before becoming PATS President in 2006. Dr. West was recognized with the PATS Distinguished Merit Award in 2014 and the National Athletic Trainers' Association Service Award in 2015.
In addition to Dr. West's enhancement of the athletic training profession through professional membership and leadership, he has spoken at state, regional and national athletic training meetings across the country. Dr. West has promoted extensive scholarly growth through publications, poster presentations, published abstracts and research and travel grants.
Currently, Dr. Tom West is a professor in the Department of Health Sciences at the California University of Pennsylvania and serves as a site visit chairperson for professional level programs with the Commission on Accreditation of Athletic Training Education (CAATE).
For more information regarding this topic or to schedule an interview with PATS President John Moyer, LAT, ATC, please contact Linda Mazzoli, MS, LAT, ATC, PATS Executive Director.
The Pennsylvania Athletic Trainers' Society, Inc. is a progressive organization of licensed healthcare professionals who work under the direction of a licensed physician. Our society continues to increase public awareness and education regarding Athletic Trainers and the Athletic Training profession while serving as the premier source of information for public safety, injury and illness prevention, early intervention, patient care, and healthcare delivery for the physically active in the Commonwealth.
"The Keystone to a Healthy and Physically Active Life"