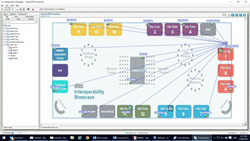 In collaboration with our partners, we will also demonstrate how RTLS system alerts related to patient security and equipment utilization can be instantly shared across the entire healthcare enterprise
Las Vegas, NV (PRWEB) February 29, 2016
GuardRFID, an industry leader in active RFID/RTLS technology will once again, in collaboration with other healthcare technology vendors, to demonstrate interoperability of its system with other stakeholders using IHE profiles, at the HIMSS16 annual conference.
As the provider of location services for the 34,000 square feet HIMSS Interoperability Showcase™, GuardRFID will demonstrate how RFID/RTLS system can be used for locating people and equipment, and providing security and safety for patients and staff. System events that were traditionally restricted to proprietary RFID/RTLS systems or exclusive integrations between certain vendors, can now be used across the entire healthcare enterprise without limitations. No additional development is needed by healthcare systems to be able to receive RTLS events, apart from being compliant with IHE profiles which are based on the HL-7 protocol. Compliance and interoperability of various systems utilizing these profiles is formally tested and certified every year at Connectathon.
"During HIMSS15, we demonstrated how the location of patients and equipment can be presented within various disparate healthcare systems, without the need to develop proprietary interfaces," said Dalibor Pokrajac, GuardRFID's CTO. "This year we will again repeat those demonstrations in the HIMSS Interoperability Showcase , but we will be going further: In collaboration with our partners, we will also demonstrate how RTLS system alerts related to patient security and equipment utilization can be instantly shared across the entire healthcare enterprise, and be presented not only within their fixed user interfaces, but also on mobile devices carried by end users, showing alerts and displaying their location in real-time as they occur. This opens the door for delivery of time critical information exactly where it is needed: in user interfaces of higher level systems and end user devices, instead of only within the applications of proprietary RTLS systems."
About Guard RFID Solutions, Inc.
Guard RFID Solutions, Inc. develops Active Radio Frequency Identification (RFID) technologies and products for Healthcare, Industrial, and Enterprise applications. Guard RFID Solutions, Inc.'s products can accurately track and locate equipment, materials, and people for enhanced automation, workflow, monitoring, and security solutions—all on one flexible platform. Guard RFID Solutions, Inc. is federally incorporated in Canada, with its head office in British Columbia.
GuardRFID Contact:
Zahir Abji, President and CEO
info(at)guardRFID(dot)com
http://www.guardRFID.com