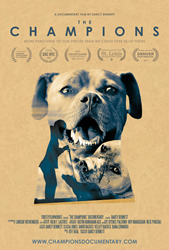 This story proves that even creatures who have suffered the most unimaginable abuse have amazing strength, spirit, and resilience
KANAB, UT (PRWEB) February 29, 2016
Beginning March 1, The Champions documentary, the inspirational story about the pit bull terriers rescued from the brutal fighting ring of NFL star Michael Vick, will be widely available for audiences everywhere to download directly from http://www.BestFriends.org/Champions and http://www.ChampionsDocumentary.com. The film will also be available for download on iTunes, Google Play, Amazon Video and VuDu.
The Champions is a story of hope, redemption and second chances – chronicling the work of animal welfare organizations like Best Friends Animal Society who agreed to take in 22 dogs despite pressures to euthanize them. The award-winning film has worked to change perceptions of pit bulls at film festivals across the country, including the Hamptons International Film Festival, DOC NYC and most recently the Santa Barbara International Film Festival, among others.
"This story proves that even creatures who have suffered the most unimaginable abuse have amazing strength, spirit, and resilience," said Darcy Dennett, director and producer for The Champions. "But the film also looks at how pit bull terrier-type dogs are discriminated against as a breed."
In an effort to educate the public about pit bull terrier-like dogs, the film also will be shown at community screenings in 20 cities around the country. The communities were chosen because of existing Breed-Discriminatory Legislation, which targets certain breeds of dogs, or laws that stigmatize canine victims of cruelty who are seized in connection with dog fighting. Legislation to overturn these inhumane laws is pending or has recently passed in several of these communities.
"Prior to the Michael Vick case, the traditional, historic treatment of dogs from fight busts was simply to regard them as damaged goods and to kill them," said Francis Battista, co-founder of Best Friends Animal Society. "All along, we've been advocating for them to be given a chance. Our experience has shown that there's no need to be afraid of the dogs or blame them, just because of the situation they came from."
Best Friends Animal Society will host community screening of The Champions in the following cities:

Washington DC: March 2, 2016 7:00 p.m. at AMC Mazza Gallerie; hosted by Best Friends Animal Society and Washington Humane Society
Boston, MA: March 2, 2016, 7:00 p.m. at AMC Loews Boston Common 19 & IMAX; hosted by Best Friends Animal Society, Animal Rescue League and MSPCA
Chicago, IL: March 3, 2016 7:00 p.m. at AMC River East 21; hosted by Best Friends Animal Society, Safe Humane and One Tail at a Time
The complete list is available at https://tugg.com/titles/the-champions
To learn more about The Champions and watch the trailer, visit: http://www.championsdocumentary.com/watch-the-trailer/
About Best Friends Animal Society
Best Friends Animal Society is the only national animal welfare organization dedicated exclusively to ending the killing of dogs and cats in America's shelters. A leader in the no-kill movement, Best Friends runs the nation's largest no-kill sanctuary for companion animals, adoption centers and spay and neuter facilities in Los Angeles and Salt Lake City as well as lifesaving programs in partnership with more than 1,300 rescue groups and shelters across the country. Since its founding in 1984, Best Friends has helped reduce the number of animals killed in American shelters from 17 million per year to an estimated 4 million. By continuing to build effective initiatives that reduce the number of animals entering shelters and increase the number who find homes, Best Friends and its nationwide network of members and partners are working to Save Them All®.
To become a fan of Best Friends Animal Society on Facebook go to: http://www.facebook.com/bestfriendsanimalsociety
Follow Best Friends on Twitter: http://twitter.com/bestfriends
About Director/Producer Darcy Dennett
Darcy Dennett directed and produced the documentary The Champions, about the pit-bulls rescued from the dog-fighting ring of NFL's Michael Vick, an inspirational story of resilience and the significance of the relationship humans have with animals. In 2013, Dennett produced a segment in Nigeria for Oprah's landmark series Belief. She was the series producer of National Geographic's Dogtown, directed episodes of Our America with Lisa Ling, and produced a multi-million dollar advertising campaign for HSBC with some of National Geographic's best photographers, around the world. Darcy studied film at Wesleyan, lives in NYC, and has traveled to over 50 countries. For more Information about Darcy, visit: http://www.championsdocumentary.com/filmmaker/