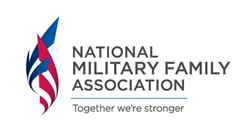 The war that started 15 years ago is not over. Our nation's more than 3 million military family members continue to deal with family separation, frequent moves, and uncertainty...
Alexandria, VA (PRWEB) March 02, 2016
The National Military Family Association(NMFA), a nonprofit that works to strengthen and protect military families, has announced their 2016 Legislative Priorities. Recently approved by NMFA's Board of Governors, these priorities hone in on six key areas vital to strengthening and supporting our nation's military families.
"The war that started 15 years ago is not over. Our nation's more than 3 million military family members continue to deal with family separation, frequent moves, and uncertainty over future missions and the level of support that will be available to them," said NMFA Executive Director, Joyce Wessel Raezer. "These families deserve access to quality health care and better employment opportunities. They need assurance military pay will keep pace with increases in the private sector. Systems of support—from commissaries to the schools educating military children—must remain strong."
Here are the six key areas NMFA will focus on in conversations with lawmakers about military families:

Health care – Now is the time for military health system reform that tackles current problems with TRICARE with an understanding of the needs of special populations within the military community.
Pay – Troops should receive fair annual pay raises tied to the rate of private sector increases.
Spouse Employment – To meet the growing need for mental health providers, we are working to obtain student loan debt forgiveness and repayment for spouses pursuing mental health careers.
Children's Education – NMFA seeks enhanced support for quality education in civilian schools educating military kids through increased funding for Impact Aid and the continuation of the DoDEA grant program, which will end in 2016 unless Congress acts.
Commissaries – Military families, many relying on a single income, must be assured the savings they receive by shopping at the commissary won't decrease.
Veterans Affairs – Reproductive assistance for wounded veterans should be available through the Veterans Affairs Department.
Transitional Benefits – Military families whose retirement-eligible service member is convicted of a crime shouldn't experience an immediate loss of benefits.
"While NMFA will continue our legacy of leading the charge to ensure military families have the full range of resources they need to remain strong," said Raezer, "we can never forget the unique issues facing the most vulnerable families in our community. That's why we added reproductive assistance for wounded veterans to our priority list. Families of our wounded veterans who have sacrificed so much shouldn't have to miss out on the joys of parenthood."
To read more about NMFA's 2016 priorities, click here.
About the National Military Family Association
The National Military Family Association is the leading nonprofit dedicated to serving the families who stand behind the uniform. Since 1969, NMFA has worked to strengthen and protect millions of families through its advocacy and programs. They provide spouse scholarships, camps for military kids, and retreats for families reconnecting after deployment and for the families of the wounded, ill, or injured. NMFA serves the families of the currently serving, retired, wounded or fallen members of the Army, Navy, Marine Corps, Air Force, Coast Guard, and Commissioned Corps of the USPHS and NOAA. To get involved or to learn more, visit http://www.MilitaryFamily.org.