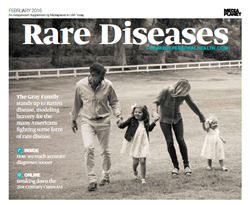 (PRWEB) February 29, 2016
FTD, or Frontotemporal Degeneration, is a rare disease, affecting an estimated 50,000 to 60,000 people in the United States. Working together, AFTD is featured within Mediaplanet's latest cross-platform campaign, responding to challenges facing the rare disease community.
The print component of "Rare Diseases" is being distributed within the February 29th edition of USA Today in New York, Chicago, Houston, San Francisco and Boston, with a circulation of approximately 250,000 copies and an estimated readership of 750,000. The digital component is distributed nationally, through a vast social media strategy and across a network of top news sites and partner media outlets. To explore the digital version of the campaign, click here.
Frontotemporal degeneration (FTD) is characterized by progressive atrophy of several different areas of the brain, particularly the frontal and/or temporal lobes, the parts of the brain that control "executive functions" such as decision-making, personality, social behavior and language. Clinical diagnoses include behavioral variant FTD (bvFTD), primary progressive aphasia (PPA) which affects language, the movement disorders progressive supranuclear palsy (PSP) and corticobasal degeneration (CBD), and FTD-ALS (FTD-amyotrophic lateral sclerosis).
To mark Rare Disease Day, Mediaplanet enlisted help from The Association for Frontotemporal Degeneration (AFTD) and other organizations, to increase awareness of the challenges that individuals and families impacted by rare diseases face, while establishing a more powerful and unified voice across the rare disease community.
About AFTD
AFTD is a Radnor, PA-based national nonprofit working to improve the quality of life of people affected by Frontotemporal Degeneration (FTD) and to drive research to a cure. For more information, visit http://www.theaftd.org, or connect via http://www.facebook.com/TheAFTD or http://www.twitter.com/AFTDCure.
Through its grant programs, AFTD supports scientists engaged in research to advance understanding of FTD biology and basic disease mechanisms, identify novel approaches to diagnosis and treatment, and develop assistive technologies that support patients in carrying out the activities of daily living. To date, AFTD has awarded more than $1 million to support postdoctoral researchers, early-career researchers, and those pursuing new ideas in FTD research. Together, AFTD and the Alzheimer's Drug Discovery Foundation have provided an additional $2.7 million in funding for FTD translational research. To learn more about AFTD's research initiatives, visit: http://www.theaftd.org/research/funding-opportunities
Finding others who understand what it is like to be diagnosed can offer emotional support and practical tips for coping in daily life. AFTD is devoted to providing support for both individuals diagnosed with FTD, as well as their caregivers. Visit http://www.theaftd.org/life-with-ftd/i-have-ftd/support for a comprehensive list of support options available to people living with an FTD diagnosis. Comprehensive listings of support options for caregivers are also available at: http://www.theaftd.org/get-involved/regions
This campaign was made possible with support from The Association for Frontotemporal Degeneration, a nonprofit dedicated to improving the quality of life of people affected by FTD. Their mission is to work toward a world where frontotemporal degeneration is understood, effectively diagnosed, treated, cured and ultimately prevented.
About Mediaplanet
Mediaplanet is the leading independent publisher of content-marketing campaigns covering a variety of topics and industries. We turn consumer interest into action by providing readers with motivational editorial, pairing it with relevant advertisers and distributing it within top newspapers and online platforms around the world.