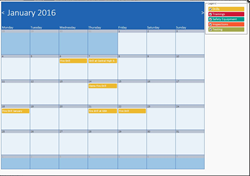 Rapid Responder has always been a robust technology and that is only propelled by the use of new technologies and updated experiences for users.
Kirkland, WA (PRWEB) March 01, 2016
Prepared Response, Inc. has announced its newest version of Rapid Responder, an industry leading emergency preparedness and crisis management system. Version 7.4 offers users more control and additional customization of facilities that are implemented with the technology. As with previous version releases, version 7.4 is comprised of logistical updates, as well as updates requested by customers, meeting more preparedness needs than ever before.
"With every system update and new version, we are expanding the possibilities for Rapid Responder to aid our current and future customers," says Tobey Bryant, Chief Executive Officer for Prepared Response, Inc. "Rapid Responder has always been a robust technology and that is only propelled by the use of new technologies and updated experiences for users."
Rapid Responder version 7.4 offers a brand new feature of a master calendar, allowing for a more efficient process when scheduling reminders and meeting drill and maintenance needs. When users schedule a reminder, it shows up in the master calendar found under the Administrative tab in the Administrative Interface of Rapid Responder. From here, system admins can see reminders for drills, trainings, safety equipment, inspections, and testing all in one central location. The master calendar also allows users to edit the date, time and who receives the reminder straight from the calendar.
"As with any new version release, our goal is to offer customers a more versatile product that continues to meet their ever-changing needs for emergency response," says Larry Lowry, Director of Development for Prepared Response, Inc. "We take into consideration all requests that are submitted, and many of these updates come from those ideas. Our customers know what they need to be better prepared and we enjoy helping them meet their needs through Rapid Responder."
Further Rapid Responder system updates give users more freedom to understand the robust system with the addition of topical help pages in the Personnel tab. These quick links are noted by the addition of a question mark in the right corner and opens a new tab with directions and definitions of system specific terms. Users also now have the ability to bulk upload contacts into Notify, and can set safety equipment reminders for checks on things like fire extinguishers and AED's. Rapid Responder Easy Alert is more customizable during incidents with the ability to update event names and automatic email distribution when a hazard status is updated. In the Emergency Response Interface, Rapid Responder users have the option to add a building description, giving responders more information during an incident or drill.
Rapid Responder is an all-hazards site-based crisis management system that protects over 16,000 facilities nationwide by providing facility stakeholders and first responders instant access to site specific emergency response information. Site information includes floor plans, aerial views, site maps, hazardous material locations, utility shut off information, emergency and evacuation plans, and live camera feed. Rapid Responder is SAFETY Act Certified by the U.S. Department of Homeland Security, and has been successfully used during active shooter events, bomb threats, lock downs, and other emergency situations.
MEDIA CONTACT
For further information, please contact:
Prepared Response, Inc.
Samantha Caron
scaron(at)preparedresponse(dot)com
253.363.8561
ABOUT PREPARED RESPONSE, INC.
Prepared Response Inc. is the leading innovator of emergency preparedness and crisis management solutions in the nation. For over a decade, Prepared Response has provided industry leading technology and consulting services that have been proven to save lives and mitigate property damage. The company's flagship product, Rapid Responder, is used by over 1,300 public safety agencies nationwide and is SAFETY Act Certified by the U.S. Department of Homeland Security as a Qualified Anti-Terrorism Technology, along with being endorsed by the National Sheriffs' Association. Rapid Responder is currently deployed in educational facilities, public buildings, critical infrastructure and private facilities across the U.S.
The privately held company is headquartered in Kirkland, Washington. Additional information can be found at http://www.preparedresponse.com or by calling 1-866-862-7741.