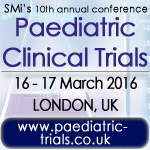 Maximise the potential of your drug portfolio this March!
(PRWEB UK) 1 March 2016
Taking place on the 16th and 17th March, Paediatric Clinical Trials returns to London for the 10th annual show. This years' event will focus on the paediatric therapeutic developments, directives and procedures which have been put in place to protect children taking part in clinical trials.
With the agenda full of leading industry figures from big pharma, here are 3 key presentations not to be missed.
1. Challenges in Paediatric Drug Development – Developing New Oncology Drugs for Children - Sabine Fuerst-Recktenwald, Senior Medical Director Paediatric Oncology, Roche Pharma. This session will focus on historical adult centric vs. integrated paediatric development as well as long-term safety considerations.
2. Why Paediatric Development Does Really Matter? Psychopharmacology as a Paradigm - Philippe Auby, Vice President of Clinical Development – Paediatrics, Lundbeck. Philippe will present on several matters including: Considerations for dosing frequency, stability and storage requirements; the impact on the progress and success of clinical trials; improving formulation on the safety profile and efficacy of medicines for children as well as decreasing the risks of adverse drug reactions
3. Challenges of drug development in Rare Diseases – Inhalation Anthrax - Sangeeta Sedani, Clinical Investigation Lead, GlaxoSmithKline R&D. Various topics will be explored including the background to raxibacumab as a recently developed drug for treatment of inhalation anthrax; regulatory challenges and logistical challenges of implementing clinical studies during a public health emergency
To see who will be in attendance amongst Roche, Lundbeck and GSK, please visit the event website http://www.paediatric-trials.co.uk/xxx to download a preliminary list of attendees.
Benefits of attending 2016:

Discuss the framework of US and EU Paediatric Legislation
Evaluate approaches for recruitment and retention
Review the challenges in paediatric drug development developing new oncology drugs for children
Learn about safety considerations of paediatric clinical trial
Explore recent development in paediatric trials in the US
Study the role of analgesics in paediatric population
Analyse why paediatric formulation does really matter
For sponsorship enquiries, contact Alia Malick at +44 (0) 7827 6168 or email amalick(at)smi-online.co.uk
For media enquiries contact Anna Serazetdinova on +44 (0) 20 7827 6180 or email aserazetdinova(at)smi-online.co.uk
For delegate enquires or to register contact Matthew Apps on +44 (0) 20 7827 6093 or email mapps(at)smi-online.co.uk
10th annual Paediatric Clinical Trials Conference
16th – 17th March 2016
London, UK
Contact e-mail: aserazetdinova(at)smi-online.co.uk
Contact number: Matthew Apps +44 (0) 20 7827 6093
Event Website: http://www.paediatric-trials.co.uk/pweb
------------------------- END OF PRESS RELEASE--------------------------
About SMi Group:
Established since 1993, the SMi Group is a global event-production company that specializes in Business-to-Business Conferences, Workshops, Masterclasses and online Communities. We create and deliver events in the Defence, Security, Energy, Utilities, Finance and Pharmaceutical industries. We pride ourselves on having access to the worlds most forward thinking opinion leaders and visionaries, allowing us to bring our communities together to Learn, Engage, Share and Network. More information can be found at http://www.smi-online.co.uk