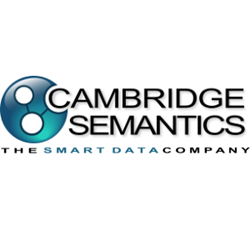 Boston, Mass. (PRWEB) March 01, 2016
Cambridge Semantics, the leading provider of Smart Data analytic and data management solutions driven by semantic web technology, today announced that it has been named to KMWorld's 2016 list of the '100 Companies That Matter in Knowledge Management' for the second consecutive year.
"Being named to our list of 100 Companies That Matter in Knowledge Management is a prestigious designation because it represents the best in innovation, creativity and functionality," said Sandra Haimila, editor at KMWorld. "The companies recognized this year offer solutions designed to help users and customers find information they need whenever or wherever they need it."
Cambridge Semantics offers the award-winning Anzo Smart Data Platform for building interactive Smart Data solutions that help enterprises rapidly discover, understand, combine, analyze, link and manage data from diverse sources, both from within and across organizational boundaries. Driven by the success of the Anzo Smart Data Platform, Cambridge Semantics launched the Anzo Smart Data Lake to address enterprise wide analytics and data management problems created by the explosion of big data.
Leveraging a unique graph-based approach, the Anzo Smart Data Lake goes beyond rigid relational data warehouses and unwieldy Hadoop-only data lakes, enabling business users to manage and analyze data at enterprise scale with unprecedented flexibility, insight and speed.
"We are delighted to be recognized as an industry leader in innovation and service from KMWorld," said Alok Prasad, president of Cambridge Semantics. "To receive this award for a second year exemplifies not only the continued company growth we've experienced over the past year, but also our dedication toward providing valuable solutions to our customers."
To develop this year's 17th annual list, KMWorld convened a panel of colleagues, analysts and system integrators to help identify organizations dedicated to the true value of discovery and delivery of the right information to the right people at the right time.
About KMWorld
KMWorld is the leading information provider serving the Knowledge Management systems market and covers the latest in Content, Document and Knowledge Management, informing more than 30,000 subscribers about the components and processes - and subsequent success stories – that together offer solutions for improving business performance. KMWorld is a publishing unit of Information Today, Inc.
About Cambridge Semantics
Cambridge Semantics (CSI), the Smart Data Company, is an enterprise analytics and data management company. It enables customers and partners to rapidly build interactive, real-time smart data solutions based on its Anzo Smart Data Platform™ (Anzo SDP).
IT departments and business users gain better understanding and data value through the semantic linking, analysis and management of diverse data whether internal or external, structured or unstructured. The Anzo SDP smart data solutions are delivered with increased speed, at big data scale and at a fraction of the implementation costs of using traditional approaches.
The company is based in Boston, Massachusetts.
For more information visit http://www.cambridgesemantics.com or follow us on Facebook, LinkedIn and Twitter: @CamSemantics.