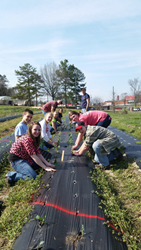 Indianapolis, Indiana (PRWEB) March 03, 2016
FFA members across the country are helping feed the hungry in their communities thanks to more than $360,000 awarded in grants by the National FFA Organization.
This year, FFA chapters in 40 states and the Virgin Islands received FFA: Food For All Grants, which are sponsored by the Donaldson Foundation, Elanco, Land O'Lakes, Nationwide Foundation, Nutra Blend, Sealed Air, Tractor Supply Company and Tyson as a special project of the National FFA Foundation.
Using the monies received from the grant, FFA members from coast to coast implement long-term, real-world solutions to ease hunger in their communities.
The South Rowan FFA chapter in North Carolina has donated 2,900 pounds of produce and 400 dozen eggs to the Main Street Mission and Unity Mobile Meals, who distributed them to the community, helping fill the gap of fresh products for the hunger fighting agencies.
In California, FFA members from the Vista FFA chapter raised high quality protein for the school's backpack program and food pantry, including over 200 pounds of lamb, 100 pounds of rabbit and hundreds of eggs, thanks to the grant. They were also able to produce several hundred pounds of produce including tomatoes, lettuce, strawberries, apples, raspberries and an assortment of other vegetables.
The Roland-Story FFA in Iowa plans to continue their project which included planting row crops on three acres of land and building seven raised garden beds which allowed FFA members to donate nearly 5,500 pounds of produce to a local food bank. The donation included twenty varieties of fruits and vegetables.
Using skills they've learned in their agricultural education classes, the Holmen chapter in Wisconsin raised and processed 450 chickens that were donated to the school lunch program.
FFA chapters across the country are working on ways they can help their local communities while sharing with others the importance of agriculture by living out the leadership skills they've developed through FFA.
Other FFA chapters who received grants are located in Alabama; Arkansas; California; Colorado; Connecticut; Delaware; Florida; Georgia; Iowa; Idaho; Illinois; Indiana, Kansas, Kentucky, Louisiana, Maryland, Massachusetts, Michigan, Minnesota, Missouri, Mississippi, Montana, Nebraska, New Jersey, New Mexico, New York, North Carolina, Ohio, Oklahoma, Oregon, Pennsylvania, South Carolina, South Dakota, Tennessee, Texas, Utah, Virginia, Washington, West Virginia and the Virgin Islands.
In 2015, 137 chapters received Food For All grants. Those grants resulted in more than 15,585 people involved with helping ease hunger in their community by donating 164,261 hours of their time. In terms of food, chapters donated more than 112,000 pounds of produce; more than 12,250 pounds of meat and fish and more than 46,620 eggs.
The National FFA Organization provides leadership, personal growth and career success training through agricultural education to 629,367 student members who belong to one of 7,757 local FFA chapters throughout the U.S., Puerto Rico and the Virgin Islands.
# # #
About National FFA Organization
The National FFA Organization is a national youth organization of 629,367 student members as part of 7,757 local FFA chapters in all 50 states, Puerto Rico and the Virgin Islands. The FFA mission is to make a positive difference in the lives of students by developing their potential for premier leadership, personal growth and career success through agricultural education. The National FFA Organization operates under a federal charter granted by the 81st United States Congress and it is an integral part of public instruction in agriculture. The U.S. Department of Education provides leadership and helps set direction for FFA as a service to state and local agricultural education programs. For more, visit the National FFA Organization online at FFA.org, on Facebook, Twitter and the official National FFA Organization blog.
About National FFA Foundation
The National FFA Foundation builds partnerships with industry, education, government, other foundations and individuals to secure financial resources that recognize FFA member achievements, develop student leaders and support the future of agricultural education. Governed by a 19-member board of trustees comprised of educators, business leaders, individual donors and FFA alumni, the foundation is a separately-registered nonprofit organization. About 82 percent of every dollar received by the foundation supports FFA members and agricultural education opportunities. For more, visit FFA.org/Give.