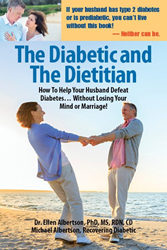 A great new resource for managing diabetes challenges. It debuts in June, so be sure to grab your copy! Important stuff. -Robyn Webb author of, Diabetes Food and Nutrition Bible, Food Editor Diabetes Forecast, Wellness Consultant U.S. Chamber of Commerce.
Burlington, Vermont (PRWEB) March 03, 2016
The Diabetic and The Dietitian: How To Help Your Husband Defeat Diabetes... Without Losing Your Mind or Marriage is available for review.
Michael Albertson is a recovered diabetic. His wife, Ellen, is a dietitian and psychologist. When Michael was diagnosed with type 2 diabetes, they couldn't find any material on how wives could help their husbands defeat the disease and stay sane in the process. So they wrote: The Diabetic and The Dietitian: How to Help Your Husband Defeat Diabetes… Without Losing Your Mind or Marriage together to help wives help their husbands… and themselves.
Alexandria Press is releasing The Diabetic and The Dietitian on June 1, 2016. Michael and Ellen's journey from diagnosis to recovery would make a compelling, motivational and educational feature for readers. To access the NetGalley.com link to the digital, pre-pub galley and/or to request additional information just email Rachel Sykes at cook two@comcast.net.
According to the Centers for Disease Control and Prevention (CDC), 15.5 million, or 13.6 percent, of American men have diabetes. Another 86 million American adults are estimated to have prediabetes, a condition that if left untreated will progress into full-blown diabetes. More people die from diabetic complications than breast cancer and AIDS combined, and two-thirds of people with diabetes die of heart disease or stroke.
Literally millions of American women are struggling to help their husbands defeat this deadly disease and stay healthy. The Diabetic and The Dietitian will show them how to:

Apply powerful psychological techniques to help hubby lose weight, defeat diabetes, and finally leave the toilet seat down
Survive the 5 Stages of Diabetic Grief (his)
Rewire his (and your) brain for weight loss
Learn menu lingo to uncover hidden blood sugar bombs so he can eat right when eating out without sacrificing fun or flavor
Clear up carb confusion – simple or complex?
Read it, before he eats it… food label literacy
Discover his "food personality"… and how to change it
Reverse diabetes induced sexual dysfunction – We can fix that
No more diabetic diet cardboard cuisine. Includes a complete two-week diabetes-defeating meal plan with delicious, easy recipes so good he won't even notice they're healthy.
About the authors: A member of the Academy of Nutrition and Dietetics Diabetes Care and Education Practice Group, Dr. Ellen Albertson is a PhD Psychologist, Registered Dietitian Nutritionist, and Certified Wellness Coach and the former on-line nutrition expert for Men's Health Personal Trainer. She's written for Self, Better Homes and Gardens, and Good Housekeeping. Michael Albertson, a former chef, traded in his spatula for a spell checker and is now a writer, stand-up comedian, barbecuing webmaster and recovered diabetic. Michael has written for Playboy, the Boston Herald, and Baby Magazine. Stay in touch with Ellen and Michael on Twitter to get easy, actionable health, wellness, and longevity information and tips at: @WellCouples.