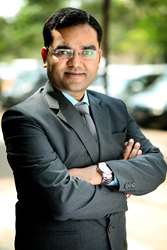 We look forward to assisting Cetas HC clients on complex commercial issues related to sales force effectiveness, forecasting and promotional spend optimisation.
Singapore, New York, Mumbai (PRWEB) March 04, 2016
Cetas Healthcare, a specialist medical technology marketing consulting and research agency, announced today that it is expanding its business services portfolio, as well as reorganizing into three practices in order to better serve the increasing need for end-to-end marketing services.
Effective immediately, Cetas Healthcare will be organized along three practice lines – Market & Customer Insights (led by Sumit Mehta based in Singapore), Strategy Consulting (led by Gopal Sundaramoorthy, based in Albany, NY, USA), and Sales & Marketing Analytics (led by Shashi Kumar, based in Mumbai, India).
Shashi Kumar joins Cetas Healthcare with a strong background in sales, marketing and analytics solutions. He has a bachelor's degree from IIT-Bombay, and an MBA from IIM-Ahmedabad.
"We are thrilled to have Shashi join our leadership team," said Sumit Mehta. Shashi Kumar noted "Custom analytics is highly synergistic with our strong market research foundation, and I look forward to helping our customers with complex problems like sales force sizing, sales forecasting, deployment, promotional response modelling and incentive analysis."
"Value-based-healthcare, globalization, demands for integrated solutions, etc. require brand new approaches and thinking," says Gopal Sundaramoorthy, adding "we now have complete solutions to help our customers create, refine and implement effective strategy and directions."
"With this new and improved portfolio of offerings and organization structure," said Sumit Mehta, "we will be able to seamlessly serve our customers' needs throughout the continuum of the marketing function, and help eliminate knowledge dilution risks."