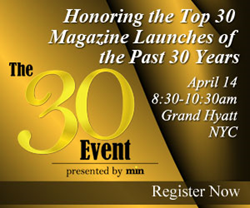 New York, NY (PRWEB) March 02, 2016
On April 14, min will host an awards breakfast honoring the top 30 magazine launches of the past 30 years. From 8:30-10:30 a.m. at the Grand Hyatt, we will recognize the brands, selected by Dr. Samir Husni (aka "Mr. Magazine"), that have helped redefine magazine media, as we know it.
The celebration will be more than a tip of the hat to the success of these publications; it is also a testament to the dedication, innovation and quality content that magazine media fosters. And of course, none of that is possible without one of the most important assets any brand has: its people. "We are excited to honor some of the most vibrant and compelling titles from the last three decades," says Dr. Husni. "Each has, in its own way, changed the media landscape."
The honorees are:

Cooking Light
Dwell
Elle
Entertainment Weekly
ESPN The Magazine
Fast Company
First for Women
Food Network Magazine
Garden & Gun
Highlights High Five
InStyle
In Touch Weekly
Marie Claire
Martha Stewart Living
Men's Health
Mental Floss
More
NewBeauty
O The Oprah Magazine
Out
People En Espanol
Rachael Ray Every Day
Real Simple
Taste of Home
Teen Vogue
WebMD Magazine
The Week
Wired
Women's Health
WSJ Magazine
In addition to celebrating the publications themselves, min and Dr. Husni will honor The Hottest Publisher, Editor, Design Team and Launch of the past 30 years.
Additionally, min is delighted to honor its own. This year marks editor-in-chief Steve Cohn's 30th anniversary, so there is no better occasion to celebrate his time as one of magazine media's best advocates and historians.
Register for The event here: http://www.minonline.com/The30Event.
About min: min is the industry's trusted source on the consumer and b2b magazine business, reaching thousands of media executives through print, online and in-person events. For more than 60 years, min has been serving the magazine and media community with unparalleled coverage of this ever-changing industry. For more information, visit min at minonline.com.
###